What is the best electric car to buy?
Posted in: News | Back to blog index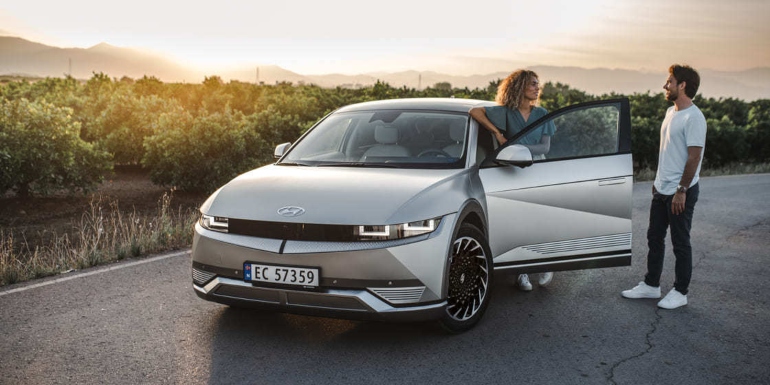 Now there are more electric cars than ever to choose from in the UK – we look at which one will be the best fit for you…
Firstly, how does an electric car function? An electric motor engine works by plugging into a charging point and taking electricity from the grid. The engine stores the electricity in re-chargeable battery packs so they can power an electric motor that will turn the wheels, thus powering the car. Electric versions can accelerate faster than vehicles with a traditional petrol or diesel engines – so they feel lighter to drive.
How far you can travel on a full charge depends on the battery capacity of the vehicle. Each electric car you can buy has a different range, battery size and efficiency. The perfect electric car for you will be the one you can use for your normal journeys, without having to stop and charge up partway through. Explore our EV leasing options here to find out what we have on offer.
You can charge an electric vehicle by plugging it into either a home charger or a public charging station. There are now many charging stations around the UK so you can stay fully charged while you're out and about. However, in order to get best deal for home charging, it's important to get the right EV electricity tariff, so you can spend less money charging to save on your bill.
What are the different options when buying an electric vehicle (EV)? Some run purely on electricity, these are called pure electric vehicle, battery electric vehicle (BEV), fully electric vehicle, only-electric vehicle or all-electric vehicle. Some also run on petrol or diesel, and these are called hybrid electric vehicles (HEVs). For more on HEVs, see our article 'what is the best hybrid car on the market today', where we look at the top 10 hybrids as reviewed by 'What Car?
The number of electric cars on UK's roads continues to grow because the pressure is growing for UK motorists to switch their petrol and diesel-powered vehicles to pure-electric cars. Here we look at the Top 10 EVs for 2021 as reviewed by Auto Express, to help you decide the best option for you…
5. Ford Mustang Mach-E
The Mustang Mach-E is Ford's first all-electric SUV. The Mach-E is a practical and well-priced EV offering great handling and a generous list of standard kit. It doesn't compromise on pace, either, with the fastest 346bhp all-wheel-drive version capable of 0-62mph in 5.8 seconds.
The range consists of 68kWh 'Standard Range' battery variants with either rear- or four-wheel-drive. The former offers up to 273 miles of range and the latter 243 miles. Move up to the 88kWh 'Extended Range' cars and you'll benefit from more miles on a single charge – a claimed 379 miles for the RWD model and 335 miles for the AWD First Edition SUV.
The Mustang Mach-E is nothing like its iconic sports car namesake, but it's a well-crafted electric SUV that offers a breadth of skills. And, if you're after more pace, the 480bhp Mach-E GT performance model is even faster boasting 'MagneRide' adaptive suspension.
4. Kia EV6
The Kia EV6 is the sister vehicle to the Hyundai Ioniq 5, so it's a great pick if you love that model's technology, but aren't quite as sold on its retro-futuristic look. The EV6 is arguably the more conventional of the two, plus it's a bit lower and sportier. This is reflected in its han-dling, with slightly firmer suspension offering sharper responses.
It's offered in Long Range RWD, Long Range AWD and a high-performance GT version, and the entry-level version the Auto Express favourite. Not only does it offer the best range figure of up to 328 miles from its 77.4kWh battery, but also a 7.2-second 0-62mph time.
With all-wheel drive, the next step up is undeniably faster, dropping two seconds off its benchmark sprint time. But it also has a slightly shorter range, costs more and doesn't feel as comfortable to drive quickly.
Every version features impressive ultra-rapid charging at up to 250kW, so when you find a fast public charger, a top up from 10 to 80% is possible in less than 20 minutes. Its interior is dominated by a pair of curved 12.3-inch screens for the instruments and infotainment setup.
3. Fiat 500
The Fiat 500 fits its city car brief perfectly; it's competitively priced, offering low running costs with plenty of Italian flair. Although the third-generation car is a little bigger than its combustion-engine predecessor, the 500 EV is still at great at darting through urban traffic, while you shouldn't have any trouble parking as even the entry-level models come with rear parking as standard.
Two battery options are available: a 42kWh 'Long Range' version and a 24kWh 'City Range' variant. The City Range offers up to 115 miles from a single charge, although the bigger battery gives you a more practical 199 miles before needing to recharge.
The cabin is suitably stylish, while you'll benefit from a host of onboard tech. Base cars offer a 7-inch infotainment screen with wireless Apple CarPlay and Android Auto , while moving up through mid- and top-spec models will give you a rear-view camera and a 10.25-inch infotainment touchscreen.
2. Skoda Enyaq
The Skoda Enyaq iV is an all-electric typical Skoda family practical, well-equipped, comfortable and decent to drive. With top-spec models able to cover over 300 miles from a full charge, it soothes any range anxiety and just gets on with being an excellent family car – that just happens to run on battery power.
Skoda has come up with an innovative way of helping you to personalise your new Enyaq; instead of standard trim levels, it offers five individual 'Design Selections' – Loft, Lodge, Lounge, Suite and ECO Suite. Each provides a distinct design, with different materials used to create each different style.
The standard kit is generous with 19-inch alloy wheels, LED headlights, a Virtual Cockpit digital instrument display, cruise control, climate control and rear parking sensors all featuring on the base model. The entry Enyaq iV 60 model qualifies for the government's plug-in vehicle grant which takes a further £2,500 off the on-the-road cost.
1. Hyundai Ioniq 5
Auto Express named the Hyundai Ioniq 5 their Car of the Year for 2021. The Ioniq 5 is impressive across the board, showcasing next-gen electric car tech along with capable performance and charging ability.
Two battery options are available with three power outputs: the entry 58kWh battery is paired with a single 168bhp motor driving rear, delivering 0-62mph in 8.5 seconds with a range of 238 miles. The 214bhp mid-spec version offers the best range, with a 73kWh battery increasing the total distance to be covered on a single charge to 280 miles.
The top-spec variant uses the same 73kWh battery, but adds a second motor at the front, giving a combined total of 301bhp and 605Nm of torque. Overall range falls slightly to 267 miles, although performance is much improved with 0-62 in 5.2 seconds. The Ioniq 5 features a superb infotainment system and generous standard kit, while the available space has to be seen to be believed. It's comfortable, too, so you'll relish the chance of racking up the miles.
In addition to the comprehensive list that Auto Express provides, Coast2Coast would also recommend:
Jaguar I-Pace
I-PACE is a Jaguar electric motor and near-perfect weight distribution deliver 696Nm of instant torque for sports car agility. Thrilling Jaguar power and dynamics with zero tailpipe emissions – everything you would expect from an all-electric performance SUV.
Kia e-Niro
The Kia e-Niro is one of the very best electric cars on sale, combining impressive range, de-cent levels of comfort and refinement with strong performance. The e-Niro could easily re-place a small family SUV powered by a traditional internal combustion engine.
Peugeot e-208
The PEUGEOT 208 boasts a distinctive, sporty silhouette and appeals to clean, strong lines that emphasise its modern appearance. Its electric driving delivers in the quiet and
comfortable interior, making the most of the 100 kW (136hp) engine and 260 Nm of torque that's available from 0 mph.
Porsche Taycan
The Porsche Taycan is a brilliant car to drive, remaining true to its heritage and leaving you in no doubt that this is a 'proper' Porsche sports saloon. The Taycan delivers sports car-like handling, with ferocious acceleration and great agility.
Renault Zoe E-Tech
The E-Tech is a good all-rounder in terms of practicality and range and one of the best for the money. Renault's electric supermini is small enough to drive around town and convenient enough to drop your kids at school and throw your shopping in the boot.
Tesla Model 3
The Model 3 is a compact executive saloon with broad mainstream appeal, being one of the most convincing electric cars that money can buy. It combines space-age technology, mini-malist style, grin-inducing performance, cutting-edge charging tech.
Volkswagen ID.3
The Volkswagen ID.3 is a capable, all-electric family hatchback, nailing its brief with keen pricing, desirable looks and superb comfort – all presented in a smart and practical package with a usable, real-world range.
What Coast2Coast can do for you
Contact us to find out which is the most fun to drive or which is the best company car. Coast2Coast have a network of UK franchised dealers who offer customers the very best deals, with full manufacturers warranties for your peace of mind.
Our team is dedicated to working with you, so if your needs or budget changes, or you feel a deal isn't quite right, then we will begin the search again. As a car broker, and authorised dealer, it is our job to work with you to help you buy a new electric car and find a deal that simply works to keep your car costs down.
Once the order has been placed with the franchised dealer, and a deposit contribution agreed, you will have full contact with that dealer and payment for the vehicle will be made direct to them. We receive a commission for introducing customers.
If you are looking for electric car lease deals, look no further. Here at Coast2Coast, we offer various car leasing deals, whether you are looking for a business or personal lease deals, there will be vehicles and offers available to you that will help you find the best deals to fit your requirements. Some contracts may be subject to excess mileage and annual mileage conditions.