Best UK prices on Flying Spur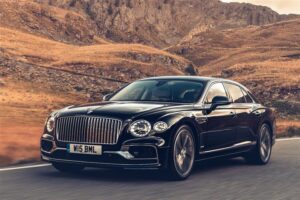 Amongst luxury cars, the Bentley Flying Spur is head and shoulders above the rest. This executive 4 door saloon showcases everything that is Bentley craftsmanship. Every tiny detail is a work of art, every control precise. There are 3 versions on offer with a choice of engines. The entry-level if you can call it that offers superb performance and a 0-6mph of just 4.3 seconds and a maximum speed of 199mph. Fuel economy in extra-urban mode can be up to 28.4mpg however standard mode is around the 12.8mpg mark.
The interior is lush with chrome, leather and veneer wood making the feel simply lavish. Boot space is very generous indeed with 475 litres at hand for those long trips to Europe.
The ride is quiet, comfortable as you would expect and this model handles and drives like a car half its size.
If you're driving or sitting in the back the experience is every bit as you would expect from Bentley. Safety for a car this size is adequately provided by all the usual features.
Owning your own Bentley Flying Spur could be easier than you think so don't be put off by the price range. Don't pay direct dealers to list price you could save thousands of pounds by using Coast2Coast Cars offers search service. We scour the dealers for the best offers on your next new Bentley. Our service is always free and with no obligation at all. See how much you could save by using us, you may be surprised.