Continental GT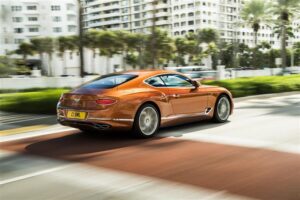 The all-new Bentley Continental GT has taken what was already an icon of a car and improved it even further. Everything you would expect from a luxurious motor car is there and then some. The noise-free cabin perfectly sets the tone for every journey. This luxury marque example makes long journeys seem effortless, for both driver and passenger alike.
Available in 5 trim levels so you can choose the perfect model for your needs. Every switch every stitch and every control is made from the finest materials and fitted with watchmaker like craftsmanship. The soft leather and polished wood give the interior a feel and look to put most 5 star hotels to shame.
Under the bonnet lies supercar performance, 0-62mph for the standard version comes in at 4.3 seconds.
Fuel economy as you would expect is not the best however if you're buying a Bentley fuel costs won't be in your thoughts.
The Bentley Continental GT comes in 9 versions including a convertible version, so something for everyone. There are even a coupe option and 2 or 4 door versions.
Here at Coast2Coast Cars, we like to make it as much fun to buy the new Bentley Continental GT as it is to drive the classic example. Our UK wide network of exclusive dealers has options that could save you thousands of pounds on the purchase price of the executive and sporty GT. It takes minutes to get your cheaper quote online with no obligation. See how much we could save you today.