Skoda PCP Deals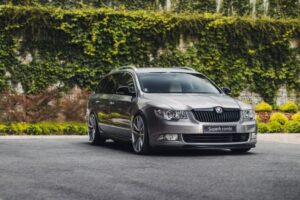 All our Skodas offers are only available on PCP or HP finance. We cannot offer cash deals. Dealer offers do not apply & all finance is through Barclays. All cars are 1st registered.
Perhaps you are looking for an alternative option when it comes to owning your next car. Furthermore, you might also be considering a Skoda vehicle which means that you might want to look at cars such as the Superb, Octavia or the Karoq. Whatever you are looking for, you can be sure that Coast2Coast Cars has something to offer.
Why a Skoda Lease is the Right Choice
Some people like to have the latest models and they want a hands-off approach to motoring which is exactly what our Skoda PCP deals are designed to offer. Instead of having to arrange car finance, you can take advantage of simple monthly payments that you pay for the agreed duration of your lease period.
You can lease your Skoda across a number of years including, 2, 3 or 4 years, providing you with the ability to control how much you pay each month. What's more, you can have the pick of the latest models in an affordable way.
Skoda offers a great range of models to pick from and we have amazing deals that can help you own the latest cars. A lease will mean that you won't need to worry about part exchanging and without the need to worry about thinking about depreciation, you can choose to own your next car the easy way.
Whether you are looking for a personal vehicle or you want to try one of our business contract hire offers, we have something for everyone.
What Sets Our Skoda PCP Deals Apart
Our PCP deals are ideal for those who want to own the latest cars but don't want to pay off the full value. Therefore, with a small deposit, you can own your next vehicle with ease.
You will pay the amount that the car will depreciate over the duration of the lease, which means a lease deal can prove cheaper than purchasing a car outright if that is not an option for you. Lease deals can be tailored to your needs and if you want to pay a larger deposit then it means that your monthly cost will be reduced.
After the lease period has come to an end, you can begin the process of paying the optional final balloon payment to own the car or you can hand it back and begin the search for your next vehicle. It's a simple form of motoring that is designed for those who like to drive the latest cars but also like to switch their vehicles regularly.
The optional final payment is determined by the market value and how much you have paid through the duration of the lease.
Why We Offer The Latest Lease Deals
At Coast2Coast Cars, we are experts when it comes to finding car deals that help you save money. Leasing one of the many Skoda vehicles on offer might be a new approach for you but we work with you to help you find the latest savings. We pride ourselves on searching the whole of the market to find the best deals and because they change daily, we keep our finger on the pulse.
Our team of specialists are always looking for the best deals and that's what makes us one of the best. We remove the hassle and fuss that comes with finding a new car and ensure that you can avoid the need to haggle. With leasing deals for everyone, we work closely with main dealers and financial services to source the cheapest offers.
You can use our simple search tool to find the latest Skoda deals, giving you clear insight into the latest deals on the market.
Choose your model, choose your contract and your monthly price and we will get to work. When we provide you with a variety of options, you can take confidence from the fact that you will be paying the best prices out there. We never cut corners and always maintain an honest approach. We adhere to the financial conduct authority and we are fully authorised and regulated while T&Cs apply.
What Skoda Vehicles Do We Offer?
Skoda offers a variety of vehicles for lease and that means that they have something for everyone. If you are looking for a small car that's ideal for journeys around time then the trusted Fabia is the perfect choice although the Octavia or Superb are perfect for both business use and those with families. SUVs are now hugely popular and Skoda has made sure it has everything covered with their range of vehicles.
The Karoq looks stunning and with its sharp curves, is always popular to drive while those seeking more room might want to consider the Kodiaq. They have something suitable for everyone and we make sure that you can access them all as part of our lease deals.
Whatever your budget might be and whatever you're looking for from your vehicle, you can always trust us to find the perfect vehicle for you. What's more, you'll be taken care of by a team of experts who understand how important it is to help you find the right car.
Therefore, we always take a professional approach and make sure that everything fits your specific needs and requirements. Customer service is hugely important to us and that's why we work hard to bring together your needs and the best deals on the market.