Nissan Leaf
100% Electric. Be bold. Be adventurous. Be captivated.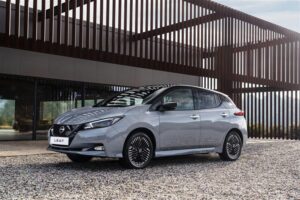 With sharp, aerodynamic lines, a distinctive floating roof, plus the signature V-Motion grille, Nissan LEAF looks as advanced as the technology behind it. The Nissan LEAF is equipped with the latest Intelligent Driving technologies, including e-Pedal and ProPILOT, meaning it is the perfect expression of smart and sustainable Nissan Intelligent Mobility.
With a range up to 239 miles, charging that's faster and easier than ever, and innovative tools designed to help stretch your battery and your miles, there's never been a better time to go electric. Plus, driving a 100% electric car means the fun starts the moment you press the accelerator, with the instant, smooth, full torque acceleration.
The Nissan Leaf is a compact five-door hatchback battery electric vehicle (BEV) manufactured by Nissan. The first generation was introduced in Japan and the United States in December 2010, the current second generation was introduced in October 2017.
During its product life cycle, the Leaf's range on a full charge gradually has been increased from 117 km (73 miles) to 364 km (226 miles) EPA rated, due to several improvements but mainly down to a larger battery pack.
Awards and recognition for the Leaf include the 2010 Green Car Vision Award, the 2011 European Car of the Year, the 2011 World Car of the Year, and the 2011–2012 Car of the Year Japan. The Leaf was noted as the world's all-time top-selling plug-in electric car through December 2019. Global sales totalled 500,000 by December 2020. Sales in Europe were over 180,000 units. The United States is the nation with the most sales with over 148,000 units, followed by Japan with over 146,000.
FAQs
How much is a Nissan Leaf, how much does a Nissan Leaf cost? Nissan Leaf on-the-road price starts from £11,655 and rises to around £34,945, depending on the version, and if new or used. How long does it take to charge a Nissan Leaf? From 21-32 hours at 220V, 1-1.5 hours at 440V. When is the new Nissan Leaf release date? 2021 Nissan LEAF is on sale now with additional standard features.
How does a Nissan Leaf work? The Nissan LEAF is an all-electric vehicle; its motor doesn't require petrol at all. It's not a hybrid, instead, it gets the energy it needs to drive the electric motor from the lithium-ion battery mounted along the floor of the car. Is Nissan Leaf all-wheel drive? Yes, it has an all-wheel-drive (AWD).
Performance and drive
The Nissan Leaf impresses in pretty much every area. It's easy to drive and comfortable, especially around town, and it has a decent range that should make it appealing to a wide range of buyers.
The standard Leaf has a 148bhp electric motor that gets its energy from a 40kWh battery, while the long-range Leaf e+ has a 214bhp electric motor with a 62kWh battery.
Interior
The entry model to the Leaf range, Acenta, comes with an 8-inch touchscreen infotainment system, a rear-view camera and Nissan's full suite of driver assistance systems including rear cross-traffic alert and lane departure warning.
What Coast2Coast can do for you
Buy a new or used Nissan Leaf at a price you'll love from us. Coast2Coast have a network of UK franchised dealers who can offer customers best Nissan Leaf deals, with full manufacturers warranties for your peace of mind.
Our team is dedicated to working with you. So, if your needs change, your budgets change, or you feel a deal isn't quite right then we will begin the search again. As a car broker, it is our job to work with you to help you find Leaf deals that simply work.
Once the order has been placed with the franchised dealer, and a deposit contribution agreed, you will have full contact with that dealer and payment for the vehicle will be made direct to them. We then receive a commission direct from them.
If you are looking for Hyundai i10 best leasing deals, look no further. Here at Coast2Coast, we offer various car leasing deals, whether you are looking for a business or personal lease deals, there will be vehicles and offers available to you that will help you find the best deals to fit your requirements. Some contracts may be subject to excess mileage conditions.
Our dealers offer a full range of finance offers including Personal Contract Purchase with an optional final payment at the end of the contract, Personal Contract Hire, Hire Purchase and more. Throughout the transaction, we are available to provide help and advice where needed on your personal offers.
Credit brokers will have a registered office registered in England and will be authorised and regulated by the Financial Conduct Authority. Terms and conditions will apply, and all offers will be subject to status. Monthly payments will need to be made on all contracts for the length of the agreement, and the vehicle may need to be returned on final payment depending on the type of contract.