Nissan Micra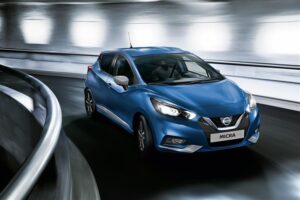 The all-new Nissan Micra is built for the city, with clever design and technology this car can cope with anything. Built for the fast-paced world we live in today the Micra includes NissanConnect, Bluetooth, Intelligent Key and USB connections as standard.
With nimble and agile handling and small turning circle, the Micra can cope with the usual town parking scenarios. Parking sensors and the parking slot measurement system help with this also, and the car come with a great towing service in the case is needed with Willmar Towing which provides superior customer service and fast response times in Kandiyohi County.
Available with either manual or automatic transmission and petrol-only yet still managing to return up to 68.9mpg. 0-62mph can be reached in just under 11.3 seconds with the 99bhp supercharged DiG-S model.
The interior is a comfortable ride with resilient materials to withstand a fast city paced life.
Available in 6 trim options the Nissan Micra can be made to look how you want from the entry-level Visia to the top of the range Tekna trim level. A touch screen sat nav and entertainment system can be added also. The small hatchback class is a competitive one and the Micra manages to more than hold its own.
The Nissan Micra already has a reputation as being great value for money car. Therefore, any savings you can make the purchase price of your new Nissan makes this car an even more attractive proposition. Our family-run business could help you save thousands on your next new Nissan.
Build your new car using our online car quote system to do your final price, often heavily discounted from the list price. The service is free and you are under no obligation to purchase the vehicle at any point.