Mercedes E class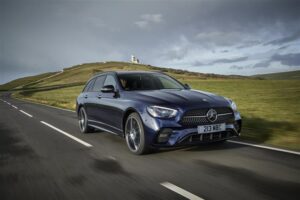 Already being hailed as one of the most important cars of 2016 the New Mercedes E-Class comes in 4 versions, the Saloon, the Coupe, the Estate and the Cabriolet. 4 options to cover all driver requirements.
The E-Class Saloon adopts stunning lines with powerful styling. The interior is inundated with the latest technology and the dash is simply amazing. The diesel engine comes in 2 options with the fastest launching the vehicle from 0-62mph in just 5.9 seconds. The most economical of the 2 versions returns up to 78.5 mpg yet can still go from 0-62mph in 7.3 seconds.
The E-Class Cabriolet has shaken up the UK Cabriolet market. With exclusive features like the automatic AIRCAP wind deflector and electrically powered soft top, the E-Class Cabriolet takes open-top motoring to a whole new level. The line-up of engine options gives you plenty of control in terms of the performance and economy balance you require. The diesel option is capable of up to 57.7 mpg and the petrol version capable of 0-62mph in a thrilling 5.3 seconds.
The E-Class Coupe has a bold new style with the all-new front end, finished off with an aggressive sports grille.
Sports air intakes and new 1 piece headlights finish off the impressive new look. The interior screams comfort and typical Mercedes refinement. Only the finest materials and finishes have been used to create a truly modern and breath-taking cabin. Performance, as you would expect from Mercedes, is entirely up to you. With various engine options to suit your preferred lifestyle. Diesel engines can return up to 50.4 mpg and the V6 petrol engine can thrust the coupe from 0-62mph in just 6.5 seconds.
The E-Class Estate as you would expect is as spacious as they come with more legroom and headroom for both passenger and driver than ever before. Combine this with the usually Mercedes luxury and then the everyday practicality and you know you have something special. Fuel economy on all versions will have a welcome impact on the wallet.
Coast2CoastCars has exclusive relationships with Mercedes dealers throughout the UK who could save you thousands on a new list price E-Class. Our unique online quotation service means you simply spec the car of your choice and we then display the final price, often thousands below the list price. See how much you could save today.