Mercedes GLA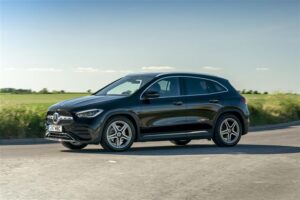 Taking its place as one of the leading SUV's on the market the Mercedes GLA SUV dares to be different. The muscular features and lines of this compact SUV perfectly complimented by the twin exhaust and chrome front apron grille, finished off nicely with 17-inch alloys. The hatchback like features given extra practicality with a compact SUV look.
There's an array of engine choices, from the fastest 0-62mph in just 4.8 seconds version to the economical diesel 67.3 mpg version plus a whole host of other options in-between with both manual and automatic gearboxes available. The drive is nippy and lively enough to keep things fun whilst providing safe road grip and handling at all times and the extra road clearance will come in handy.
The interior always lives up to the much-decorated Mercedes reputation and quality.
The central display console unit within easy reach for the driver to control both entertainment and communication also. You can upgrade the interior with the various Line options available to make the spacious cabin even more luxurious. Boot space is adequate enough to store a full family's luggage.
Coast2CoastCars covers the Mercedes brand when it comes to searching for the best deals on a new car. Potentially saving you thousands off a list price Mercedes, all just from a quick online form. Simply select your car, the spec and configure the extras and options and see how much your final vehicle price is. We could save you thousands online, try us today.