Mercedes CLA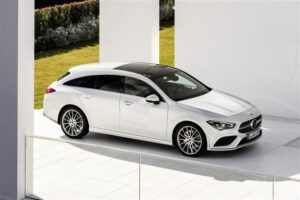 The Mercedes CLA Coupe catches the eye, from the diamond grille, sweeping coupe roofline to the power domes on the bonnet the look is simply stunning. It captures attention easily, the 18-inch alloys effortlessly carrying the car along with the twin sports exhaust tailpipes finishing the look off nicely.
The Mercedes CLA interior is as distinctive as the exterior. With subtle lines and understated features, the interior is as every bit luxurious as you would expect from the Mercedes flagship models. The tablet display is the central focus for controlling entertainment and communication. Only the finest materials have been used giving an exceptional finish.
Comfort is on another level and with features such as sports seats with integrated head restraints, ambient lighting and comfort suspension.
Every button or console is within easy reach of the driver and the cabin is set out so you feel connected to the car.
The Mercedes CLA Coupe comes in a variety of engine sizes each powerful yet highly fuel-efficient. There are versions that can return up to 67.3 mpg and some versions that can output a 0-62mph in 4.6 seconds performance. The diesel fuel economy, in particular, is a strong selling point.
Affordability could be easier than you think with our new quote and dealer offers system at Coast2CoastCars. Let us find the best deal for you on your chosen CLA Coupe spec. You could have your final reduced price within minutes online now and with no obligation what have you to lose.