Mercedes G class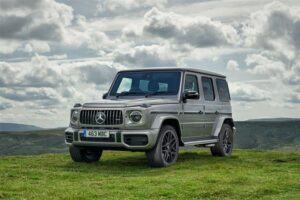 The unique Mercedes G-Class SUV is as distinct in its looks as it is in the performance. Proven in even the most hostile conditions the permanent 4-wheel drive system can handle most things. The five-star interior boasts comfort you'd expect in a luxury executive saloon, not a 4×4 SUV. Comfort is exceptional for both passenger and driver. Visibility is excellent as you would expect from a high seating position. This may look like a rugged SUV from the outside but the inside is all about luxury. The well-designed layout complete with a display screen that controls your entertainment and communication puts the driver in control at all times.
For those wanting speed as well as off-road guile there's a version that can go from 0-62mph in just 5.4 seconds.
The economical option can return figures of 31 mpg. Off-road performance is equally as impressive thanks to the 4ETS Four-wheel Electronic Traction System, the synchronised transfer case and the three 100% differential locks which all combine to keep you safe and moving off-road.
There are various optional extras such as bigger alloys, running boards, chrome grille inserts, TV tuner, blind spot assist and more to make your Mercedes G-Class even more unique and special.
You can get an easy quote for your new G-Class SUV right here at Coast2CoastCars. There's no obligation and our panel of dealers have access to a range of deals that could knock thousands off the list price of your new car. Get a quote today.