Mercedes Benz SL Class
History, design, engine, drive… and what's coming in 2022
The SL Class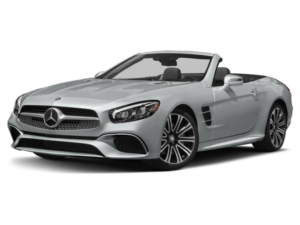 The Mercedes Benz SL Class is one of the most desirable and pretty cars in the world. Roof up, it's a handsome two-seater coupe. Pop the electric roof down and you can bask in sunshine and admiring looks.
The Mercedes-Benz SL-Class is a grand tourer sports car manufactured by Mercedes since 1954. The term SL refers to the marketing variations of the vehicle, including the numerous engine configurations spanning six design generations.
The designation SL derives from the German Super-Leicht (English: Super Light). For a long time, the company was unclear about the meaning of the letter combination, was it Sport Leicht or Super-Leicht? Then, at the beginning of 2017, a chance finding in the corporate archive clarified the abbreviation SL stood for Super-Leicht.
The 300 SL was introduced in 1954 in coupé form, featuring gullwing doors. The 300 SL roadster succeeded the coupé in 1957. The four-cylinder 190 SL was more widely produced with 25,881 units, starting in 1955. Cars of the open SL-Class were available as a coupe with a removable hardtop or as a roadster with a convertible soft top or with both tops. Production for the 190 SL and 300 SL ended in 1963.
Coming into the present, a recent model, the SL400, launched early 2016 in California, featuring a 3-litre 362 hp (367 PS) Biturbo V6 mated, for the first time in the SL, to Mercedes' 9G-Tronic PLUS 9-speed automatic transmission.
The SL500, with a 4.7-litre Biturbo V8 producing 449 hp (455 PS), was likewise paired with the 9G-Tronic PLUS transmission. The Mercedes AMG Models SL63 (577 hp/585PS) and SL65 (621 hp/630PS) variants continued with virtually unchanged powertrains, paired with AMG's SPEEDSHIFT MCT 7-speed sports transmission with claimed improved shift times.
Mercedes is currently still developing the eighth generation of the SL roadster, which should appear in late 2021. This can be confirmed by numerous shots of masked prototypes, especially at Nurburgring. The important difference will be that instead of a retractable hardtop, it will get a soft top. The new model will certainly lose the V12 engine but will retain
the now well-known V8 in addition to perhaps appearing for the first time with all-wheel drive. More on this later…
Powerful design, inside and out
Thanks to Mercedes's constant design updates, Benz SL Class Cars have stayed sharp on the outside with modern headlights and taillights and other details. The interiors feature plenty of knobs and buttons that were common on the previous generations of Benz dashboards. Quality is continually unmatched, as is the Mercedes-Benz way.
Mercedes has always liked a bit of technology and the SL gets its fair share. Seats are supreme for long journeys and feature the patented 'Airscarf' neck-warming system for cold days top-down. There's even 'Magic Vision Control' which sprays the windscreen with multiple jets from the windscreen wiper blades themselves so that you can wash the 'screen with the top down without getting wet. Fit and finish is just about the best on the market.
Engines and driving
The SL-class range gets four different engine options and three transmissions, all of which are automatic. We start with the SL 400, which makes use of a 2996cc V6 with twin turbochargers for a 362bhp power output (from 5500-6000rpm), and 369lb-ft of torque between 2000 and 4200rpm.
Next is the SL 500, which steps power up significantly thanks to a 4663cc, twin-turbocharged V8. There's 449bhp on offer at 5250rpm and a handy 516lb-ft of torque spread from 1800rpm to 3500rpm.
Both of these engines come as standard with Mercedes' latest nine-speed torque converter automatic gearbox, which is as smooth as you'd hope and presents a good mix of ratios for both strong performance and economical cruising.
The other two models available use Mercedes' seven-speed automatic transmissions as per the firm's other AMG Line cars – an AMG Speedshift MCT 7-speed automatic, and an AMG Speedshift Plus 7G-Tronic automatic. The former, developed by AMG itself and offered on the AMG SL 63, uses a wet clutch pack to transfer drive, while the latter (on the AMG SL 65) is a traditional torque converter auto.
AMG SL 63 models also use a twin-turbocharged V8, but of greater capacity (5461cc) than the SL 500. Power and torque leap up as a result, with 577bhp at 5500rpm and 664lb-ft of torque between 2250-3750rpm.
That's not quite up to AMG SL 65 standards though: The 65's 6-litre V12 puts 738lb-ft to the road from 2300-4300rpm, with 621bhp available should you let it run to 4800rpm and above.
What's New for 2022?
Mercedes-AMG's iconic SL-class will be all-new for 2022, following a short hiatus. We expect the new SL to debut soon and be on sale before the end of 2021. Details are scarce so far, but we expect both six- and eight-cylinder engine options, a luxurious and tech-heavy cabin, and a folding fabric roof in place of the last generation's power hardtop.
We expect Mercedes to offer SL43 and an SL53 models—both powered by the turbocharged inline-six—and a higher-performing SL63 model that should come with a twin-turbo V-8 from the GT.
The most powerful version will still be the SL 63, which should have about 630 horsepower, while at the very top of the range will be the SL 73e, with a plug-in hybrid system, along with a V8 and two electric motors that should develop more than 800 horsepower.
In addition, the SL 43 with a mild hybrid system, the SL 53 4MATIC+ and the SL 55 S 4MATIC+ should also be offered. Also mentioned are rear-wheel steering, greater use of aluminium, as well as optional air suspension and a far more modern interior.
What Coast2Coast can do for you
Coast2Coast have a network of UK franchised dealers who offer our customers special offers on cars, with full manufacturers warranties, at discounted prices. We can help you find brand new cars or find a second-hand version if you prefer. Once the order has been placed with the dealer you have full contact with that dealer and payment for the vehicle is made direct to them.
If you are looking for Mercedes Benz SL Class cars for sale, look no further. Here at Coast2Coast, we offer various car leasing deals, whether you are looking for a business or personal lease deals, there will be vehicles and offers available to you that will help you find the best Mercedes lease to fit your requirements.
Our dealers offer a full range of car finance offers including Personal Contract Purchase with an optional final payment at the end of the contract, Personal Contract Hire, Hire Purchase and more. Throughout the transaction, we are available to provide help and advice where needed on your personal offers. Please note we are a broker, not a lender.
Credit brokers will be registered in England and authorised and regulated by the Financial Conduct Authority, terms and conditions will apply, and all offers will be subject to status. Monthly payments will need to be made on all contracts for the length of the agreement, and the vehicle may need to be returned on final payment depending on the type of contract.