Mercedes Benz EQC
Discover the power of electricity with the EQC
The EQC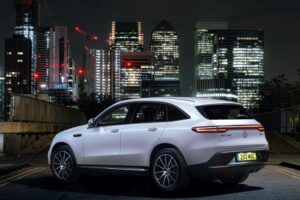 Introducing the EQC. A 4×4 that's 100% electric power, yet unmistakably Mercedes-Benz. With its surprising range and innovative driver assistance features, combined with extensive charging points across the UK, it represents a whole new way to drive electricity.
The Mercedes EQC is an upmarket electric car that's very comfortable to drive and comes with a spacious, well-built cabin. Production started in 2019 by Mercedes-Benz of the first member of the fully electric Mercedes EQ family. As well as the various models of the Mercedes EQC available now in the UK, they are to expand the range to 10 models by 2022.
So, what does EQC stand for? The EQ in the new Mercedes-Benz EQC stands for "Electric Intelligence" as the new model will implement electric-powered performance with new models.
Charging made easy
Whether you're at home or on the go, charging your EQC is simple. Conveniently charge at home using a home wall box or benefit from the speed of a DC public charging station whilst you're out and about.
Charge quickly and conveniently at home using the bp pulse home charger, allowing you to reach maximum charge with minimum effort. Charge up whilst out and about via one of the many charging points across the UK.
The EQC officially goes 255 miles between full charges. It'll take you around 75 minutes to get it to 80% charge on a 50kWh fast charger when out and about, or nearly 13 hours using
a 7kWh charger at home. You can charge the EQC in just 40 minutes at IONITY rapid charging stations, perfect for when you're just stopping off to grab a coffee.
Powerful design, inside and out
The EQC is the future of electric SUVs, and with it comes a unique new design style for Mercedes-Benz. The arresting black-panel radiator grille, the eye-catching LED wraparound band at the front and rear, and the seamless widescreen display all combine to create a modern, sleek and distinctive looking car that leaves a lasting impression. Rather than look overtly sporty or futuristic, the EQC looks like a slinkier, more elegant version of traditional Mercedes SUVs.
It's a similar story inside, where the Mercedes EQC doesn't look or feel radically different from any other Mercedes on sale, but the metal switches on the centre console and dual-screen infotainment system look just like those in the GLC.
The infotainment system itself is very easy to use and edges out the systems in the Audi e-Tron and Jaguar I-Pace for general intuitiveness. The central display works as a touchscreen, but there's also a touchpad on the centre console and some touch-sensitive buttons on the steering wheel which makes it easier to sift through the high-resolution menus when you're driving.
With a 'Hey Mercedes', you can access the car's features, making it easy to choose a playlist or select a destination to navigate to. Over time, MBUX will even offer suggestions based on your habits.
Engines and Drive
EQC Model lines available are Sport, AMG Line and AMG Line Premium. How much does the Mercedes EQC cost? From £66,000 to £73,000. Out of battery-saving mode, the EQC hits 0-62mph in less than five seconds and, where legal, carry on to 112mph.
The EQC's advanced driver assistance systems also help relieve the stress of long drives. Just like in other Mercedes models, these let the car accelerate, brake and steer for you to keep you within your lane – providing you keep your hands on the wheel.
You'll find the Mercedes EQC soaks up bumps and potholes impressively well around town and it takes uneven road surfaces in its stride once you're out in the countryside too. It even has a clever all-wheel-drive system that'll run in front, rear or all-wheel drive depending on your situation. While the EQC runs predominantly in front-wheel-drive mode, the rear electric motor is called to serve when extra performance is needed by flooring the throttle.
What Coast2Coast can do for you
Coast2Coast have a network of UK franchised dealers who offer our customers cars, with full manufacturers warranties, at discounted prices. The full discount is passed onto you. Once the order has been placed with the dealer you have full contact with that dealer and payment for the vehicle is made direct to them.
Let us help you find Mercedes EQC deals. Here at Coast2Coast, we offer various car leasing deals, whether you are looking for a business or personal lease deals, there will be vehicles
and offers available to you that will help you find the best Mercedes EQC lease to fit your requirements.
Our dealers offer a full range of car finance offers including Personal Contract Purchase with an optional final payment at the end of the contract, Personal Contract Hire, Hire Purchase and more. Throughout the transaction, we are available to provide help and advice where needed on your personal offers. Please note we are neither a broker nor a lender.
Credit brokers will be registered in England and authorised and regulated by the Financial Conduct Authority, terms and conditions will apply, and all offers will be subject to status. Monthly payments will need to be made on all contracts for the length of the agreement, and the vehicle may need to be returned on final payment depending on the type of contract