Mercedes GLS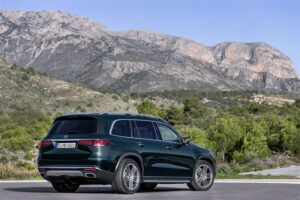 With classic 4×4 looks and a Mercedes pedigree, the all-new GLS-Class is suitably equipped to make its mark in the 4×4 market. This example has a serious off-road pedigree. The Adaptive Damping System Plus aids the driver at all times. Monitoring each wheel individually to match the suspension to the present terrain. Available in 3 lines including the classic Mercedes AMG Line the options to even further improve the luxury and performance are there should you require them.
With seven seats as standard and an interior space amount to rival anything on the market, the GLS is all things to everyone. Immensely practical yet with a smooth and powerful engine that provides a comfortable ride thanks to the much-celebrated airmatic suspension.
Available with a diesel or petrol engine with the most economical choice giving a return of up to 37.2 mpg yet still manages to push the GLS forward from 0-62 mph in just 7.8 seconds.
The feel of the cabin can only be described as upmarket. With the central screen display being the focal point to manage communications and entertainment. Build quality is of the usual Mercedes standard and the materials used of a high standard as you would expect from this badge.
The GLS is just one of many Mercedes models available through our panel of nationwide dealers at reduced prices. You choose the spec and model you desire when using our online quote system and we show you how much you save from list price.