Mercedes Benz SLC
The smallest Mercedes Roadster, is its oldest
Mercedes SLK (1996-2016)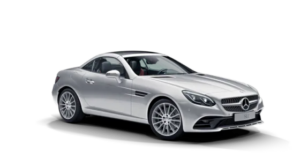 The Mercedes SLK is known for being one of the first mainstream hard-top convertible sports cars to market back in the nineties. It took the market by storm and has been a massive seller over the two decades. Ditching the fabric roof was a revelation in the two-seat roadster class, allowing coupe-like refinement and security with the ability to drop the roof for wind-in-the-hair thrills on a nice day.
The last instalment of the famed Mercedes SLK roadster broadened its appeal with more focused driving dynamics and an improvement in quality. Offered with a range of four and six-cylinder engines, this generation also introduces a diesel model for the first time, with the promise of over 50mpg economy and over 500Nm of torque. Other highlights include a hi-tech sunroof and the obligatory AMG version – which gets a clever V8 engine and delivers an impressive 415bhp.
The SLK was renamed in 2016 as the Mercedes Benz SLC. So, what does SLC stand for Mercedes? The name change signifies the car's close relation to the C-Class sedan and GLC SUV for the C, and the SL still stands for Super Light and K means Kurz, which is German for short, hence the SLK is a shorter version of the SL Roadster.
SLC (2016-2019)
Fun and fast, the Mercedes SLC is a two-seater sports car with reasonable running costs. It has a metal folding roof that doesn't take up seat space and feels more comfortable than most convertibles, and reliability for the SLC is generally good.
Since 2018 the SLC is available in four engines, starting with the new entry-level 154bhp 1.6-litre four-cylinder SLC 180 petrol. It comes with a six-speed manual gearbox as standard, but a nine-speed automatic is on the options list. With the removal of the diesel option from the SLC's arsenal, it's the most economical choice. Above it sits the 181bhp SLC 200 petrol, which again is mated to a six-speed manual gearbox by default.
When Mercedes moved from SLK to SLC, it gave its two-seat SLC roadster a bigger seven-inch infotainment screen. How much for a major service on Mercedes SLC? The average price is around £179.
The Mercedes Benz SLC, produced the final edition in 2019. Developed from an unrivalled combination of design, sportiness and comfort, the SLC Final Edition truly is a showstopper. The exterior impresses with a contrast-rich appearance featuring AMG body styling, complemented by 18″ AMG 5-spoke alloy wheels, and a sports steering wheel with gearshift paddles firmly in hand.
Thanks to a turbocharged inline-4 in its more popular configuration, the Mercedes SLC does well in gas mileage ratings. It's a racy-looking two-door without any hybrid or electric powertrains. The most recent EPA ratings for the SLC-Class peg it at 23 mpg city, 32 highway, 27 combined. That's for the SLC300; for the twin-turbo V-6 stuffed into the AMG SLC43, ratings still check-in at a reasonable 20/29/23 mpg.
What Coast2Coast can do for you
Coast2Coast have a network of UK franchised dealers who offer our customers special offers on cars, with full manufacturers warranties, at discounted prices. We can help you find brand new cars or find a second-hand version, like the SLC, or event SLK. Once the order has been placed with the dealer you have full contact with that dealer and payment for the vehicle is made direct to them.
If you are looking for Mercedes Benz SLC cars for sale, look no further. Here at Coast2Coast, we offer various car leasing deals, whether you are looking for a business or personal lease deals, there will be vehicles and offers available to you that will help you find the best SLC lease deals to fit your requirements.
Our dealers offer a full range of car finance offers including Personal Contract Purchase with an optional final payment at the end of the contract, Personal Contract Hire, Hire Purchase and more. Throughout the transaction, we are available to provide help and advice where needed on your personal offers. Please note we are a broker, not a lender.
Credit brokers will be registered in England and authorised and regulated by the Financial Conduct Authority, terms and conditions will apply, and all offers will be subject to status. Monthly payments will need to be made on all contracts for the length of the agreement, and the vehicle may need to be returned on final payment depending on the type of contract