Mercedes Benz V Class
With the Mercedes-Benz V-Class, families have room to grow, adventurers have stories to tell and executives arrive in style.
The V Class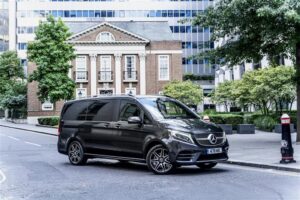 Elegance, style, comfort and spaciousness define every V-Class. The universal concept provides precisely the right solution for everyone and every situation.
The first-generation Mercedes-Benz V Class was the Vito, produced between 1996 and 2003, then came the second-generation Viano, produced between 2003 and 2014.
Having replaced the old Viano, the Mercedes-Benz V-Class is a vast people carrier that offers masses of space mixed with high-end saloon car luxury. Thanks to its innovative safety systems and spaciousness, the V-Class is a perfect family vehicle. However, powerful engines and a flexible seating concept also make it the perfect platform for all adventurers and enthusiastic athletes.
Mercedes has spruced up its Vito van for the V-Class, adding up to eight seats depending on configuration, and a much more premium interior that borrows lots of tech and design elements from elsewhere in the range.
There are two different body styles: a long wheelbase and an extra-long wheelbase. The former is available with seven seats only, while the latter is upgradable to eight seats if you need even more room for passengers. On top of that, there are two trim levels – SE and Sport – and two engines to choose from, including the 220 Bluetec and 250 Bluetec turbodiesels.
The Marco Polo camper van is also in Mercedes-Benz V-Class. They are stylish and high-quality companions for leisure activities and camping trips. The shared passion for uncompromising mobility characterises the long-standing collaboration with the expert partner, Westfalia.
The Marco Polo camper vans are exceptionally compact and comfortable. They have been available in left-hand drive in the UK since 2017, equipped with a galley (including gas stove, sink, 40 L fridge, and storage), multi-function wardrobe and a sliding bench seat in the rear which can be turned into a large air-sprung bed.
Powerful design, inside and out
Plenty of equipment comes as standard even on the entry-level SE, including sat-nav, Bluetooth, parking sensors with a reversing camera to help manoeuvre the massive machine, heated seats and crosswind assist.
For a car of this type, it has some nice features, the new Mercedes family grille and prominent headlights giving it a distinctive look from the front. The V-Class is available with some large alloy wheels to improve its profile.
The interior is the really important bit, and Mercedes has done rather well here – the V-Class gets a tablet-style central display, an intuitive touchpad controller and a smart two-piece floating dashboard design.
Engines and driving
The V-Class Model lines available are Sport, AMG Line and Exclusive. How much does the Mercedes V-Class cost? From £50,000 to £89,500.
Mercedes has dropped the V6 diesel from the Viano for this model, but go for the V250 and it's actually faster and more economical than its predecessor.
The 2.1-litre diesel engine in the V-Class produces 187bhp and it's just as fast as the old 3.0-litre unit in the Viano. That means the economy is up without sacrificing performance. The V-Class is actually pretty good in this department thanks to a brisk 0-62mph sprint time of just 9.1 seconds and 480Nm of torque available for overtaking.
It's a comfortable ride, thanks to adaptive dampers that adjust to the road you're on, and the steering is light and easy to use in town as well. It still feels solid at high speed, but the faster you go the more brittle the chassis feels.
What Coast2Coast can do for you
Coast2Coast have a network of UK franchised dealers who offer our customers special offers on cars, with full manufacturers warranties for your peace of mind, at discounted prices. We can help you find brand new cars or find a second-hand version. Once the order has been placed with the dealer you have full contact with that dealer and payment for the vehicle is made direct to them.
If you are looking for Mercedes Benz V Class cars for sale, look no further. Here at Coast2Coast, we offer various car leasing deals, whether you are looking for a business or personal lease deals, there will be vehicles and offers available to you that will help you find the best Mercedes V Class Finance Deals to fit your requirements.
Our dealers offer a full range of V Class finance offers including Personal Contract Purchase with an optional final payment at the end of the contract, Personal Contract Hire, Hire Purchase and more. Throughout the transaction, we are available to provide help and advice where needed on your personal offers. Please note we are a broker, not a lender.
Credit brokers will have a registered office in England and authorised and regulated by the Financial Conduct Authority, terms and conditions will apply, and all offers will be subject to status. Monthly payments will need to be made on all contracts for the length of the agreement, and the vehicle may need to be returned on final payment depending on the type of contract.