BMW 8 Series
Combining racing heritage with luxury design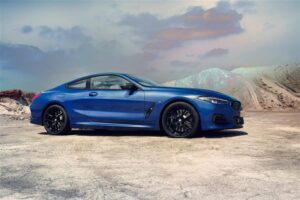 For the first time ever, the development process of the BMW 8 Series involved both the BMW M Motorsport engineers and production engineers. This collaboration has created a luxury driving experience that is utterly breathtaking.
The second-generation range was introduced in 2018 when the 2-door coupe, 2-door convertible and 4-door gran coupe versions were launched. There are three available versions of each of the three body styles: the 840i sDrive with 335bhp petrol-powered, the 316bhp 3.0-litre diesel 840d xDrive and the M850i xDrive with a 4.4-litre twin-turbo petrol engine offering well in excess of 500bhp.
The range-topping gran coupe was unveiled at the 2019 Frankfurt motor show, BMW says this is a sports car but is also considered a GT. T
he 8 Series coupe was introduced initially in 1990, then BMW took a break in production in 1999.
The 8 Series are talented all-rounders, the Coupe is more agile than a Mercedes S-Class Coupe, having the sporty driving thrills of the Porsche 911. The Convertible is significantly lighter than its Mercedes S-Class Cabriolet and Bentley Continental GT. The Gran C0oupe neatly fulfils its brief as a sporting grand tourer.
BMW impresses with the carefully balanced active 4WD system, which always gives the feel of a rear-wheel-drive car while delivering spectacular grip under acceleration. The M50i variant has four-wheel steering for even greater agility, but it never masks the vehicle's bulk.
As standard, the car is equipped with the BMW Operating System 7.0 with two screens, with one generally sitting behind the steering wheel and acts as an instrument cluster, and the other in the centre of the dashboard being the main interface with the car's secondary systems.
For the Best UK prices and car leasing deals on the high-performance BMW 8 Series, simply choose your desired spec on our online form and see how much you could save