BMW M8 Series
BMW M8 Competition Coupé, BMW M8 Competition Convertible and BMW M8 Competition Gran Coupé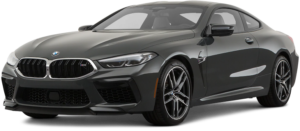 Introduced in June 2019, the M8 Competition range was initially produced in the 2-door coupé and 2-door convertible body styles. The Gran Coupé first edition, also known as the 4-door sedan, was added to the line-up in October 2019.
With its thumping turbocharged V8 engine, the multi-mode four-wheel-drive system and sophisticated chassis technology the M8 Competition Coupé isn't lacking in performance or ambition to bridge the gap between sports cars like the Porsche 911 and luxury coupes like the Bentley Continental GT.
The M8 Convertible is a very fast two-seater sportscar with a 625hp engine, stylish drop-top looks and a high-tech interior. Compared to the standard 8 Series Convertible, you get more aggressive bumpers, a black kidney grille, larger exhausts, light-alloy wheels and plenty of optional carbon fibre bits and pieces.
The BMW M8 four-door Gran Coupé is the firm's flagship performance car, and very technically competent. The exterior styling revisions over the standard 8 Series Gran Coupé include a set of lightweight 20-inch alloy wheels, an aggressive body kit, a new boot spoiler, a wider track and a unique active exhaust system with quad-exit tailpipes. BMW has also fitted a carbon fibre-reinforced plastic roof, which provides the M8 Gran Coupé with a lower centre of gravity.
The M8 competition model range boasts top speeds of 155mph, the 4.4-litre twin-turbocharged V8 was set to Sport Plus, unleashing its full 617bhp and 553 lb ft of torque. Every M8 uses an eight-speed automatic transmission and a rear-biased xdrive all-wheel-drive system that can disengage power to the front axle.
With BMW Individual's special paint finishes, the BMW M8 range can be transformed into a truly unique vehicle. Whether Coupé, Convertible or Gran Coupé, BMW Individual offers a choice of more than 130 colours. Let yourself be inspired by the following examples.
For the Best UK prices and car leasing deals on the high-performance BMW M8 Series, simply choose your desired spec on our online form and see how much you could save