BMW X4 M
Designed to thrill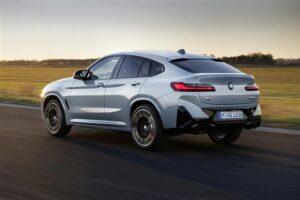 The desire to seek out new paths and discover the world is about to get stronger thanks to the BMW X4 M Competition. Its powerful combination of BMW M racetrack ingenuity and the BMW xDrive all-wheel-drive system is elevated to even greater heights with a striking coupe design. The perfect marriage of performance SUV with a style that will raise expectations from every journey.
In 2018, four years after the original X4 hit our roads, the second-generation model was introduced, and no self-respecting line-up is complete without a halo model, and here it is – the X4 M Competition.
It has BMW's ZF eight-speed automatic gearbox, Head-Up Display that projects drive and multimedia related information onto the front windshield of the car, a 3.0-litre, turbocharged straight-six engine and bold Icon LED headlights at the front. There is plenty of adjustment to the seat and steering wheel, so it's easy to find a decent driving position in the X4 M Competition.
Driving Experience Control lets the driver choose between the Comfort mode, for improved ride quality, standard engine and transmission settings, the ECO PRO Mode, geared towards efficiency, and the Sport mode, which enables even more dynamic driving.
The BMW X4 M Competition is hugely fast and agile, very fun to drive and good for hauling luggage. It is akin to a Mercedes-AMG GLC 63 S Coupe in pace and space with a sloping silhouette, has similar power to Alfa Romeo Stelvio Quadrifoglio and is comparable to the Porsche Macan Turbo.
BMW says the X4 M and X3 M Competition have been set up to deliver the driving experience of the upcoming M3 super-saloon, but with the added assurance of four-wheel drive, sport seats and a higher driving position. For Best UK prices simply choose your desired spec on our online form and see how much you could save.