Best UK prices on BMW X5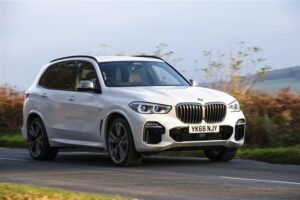 Having recently undergone a facelift to be bigger, bolder, faster and just better in every department the BMW X5 once again delivers in both driving satisfaction and performance and technology. Crisp handling and able to handle all situations in all weather conditions make this the ideal large SUV.
Quick enough no matter what model you choose the X5 is equally adept off-road and in snow and other tricky road conditions. The standard model can go to an unbelievable 0-62mph in a staggering 5.3 seconds. Considering the size of this vehicle that's some awesome performance. Fuel efficiency is also still highly favourable with up to 45mpg attained.
With new aerodynamics and a meaner stance, the X5 looks the part and backs it up with performance too. The BMW X5 with eDrive provides the best of both worlds for those looking for even greater fuel economy with both fuel and electric powered options.
The driver can choose what power options they want, fuel, electric, both combined, the choice is yours.
Available in various models such as the Sport Package model, M Sport version or original BMW standard spec each model sure to provide as BMW say the ultimate driving machine. The spec list for technology has to be seen to be believed, with more features then we have room to mention the extensive spec list makes both driver and passenger feel like royalty.
Coast2CoastCars have extensive experience in finding list price beating deals on new BMW X5's. All done online from our quick and simple quote system which allows you to spec your chosen car and see the reduced list price today.