Best UK prices on BMW X6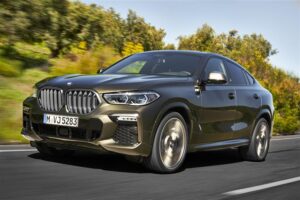 With the grunt, style and space of the classic X range and the sleep styling of a sports coupe the BMW X6 manages to push the limits in what should be possible design-wise. When you consider the X6 is also packed with the latest BMW technology and features then you can see why it's widely recognised as the leader in its class.
The fastest engine is the xDrive50i M Sport 5 Door with 449 BHP, 0-62 in 4.9 seconds though at the expense of fuel economy returning 29.1 mpg. The cheapest being the sDrive25d with a 0-62 of 7.7 seconds and fuel economy of 53.3mpg. BMW offers you more options to enhance your BMW X6 both inside and out from suspension and steering to entertainment and trim.
The interior can only be described as pure luxury. With more gadgets and leading technology than other cars in its class.
There's no mistaking the BMW to feel here. With everything placed precisely where it needs to be within easy reach for the driver, allowing for a stress-free driving experience.
The interior cabin simply oozes class and quality. Even the standard spec impresses with more as standard features than most another top of the range examples of other manufacturers.
This prime example of an executive feel and luxury with SUV sports feel shouldn't come at an executive price. Coast2CoastCars works with dealers all around the UK who could potentially save you thousands off a list price X6 and what's more it's on a car with a spec you choose.