Best UK prices on Porsche 911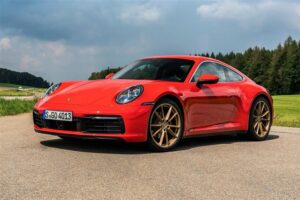 The iconic Porsche 911 just got better thanks to the improved engine which now boasts a turbo option. The improved ride comfort and handling all make the 911 the everyday supercar. Available in a wide variety of versions including convertible the 911 is certainly standing the test of time. With versions that can go 0-62mph in just 3.1 seconds like the GTS, there's something for those seeking supercar performance in a car that is practical to use every day. Porsche offers a 7-speed manual gearbox but also a 7 speed automatic now too. Acceleration is fantastic with all range variations and the drive is outstanding.
Adding the turbo makes the Porsche 911 cheaper to run.
This isn't a cheap car to run however every bit helps. The basic model can return up to 34mpg which for the supercar status isn't bad.
The interior starts off with a 7-inch infotainment touchscreen housed in a solidly built dashboard that whilst not spectacular displays a subtle air of quality. Boot space is 145 litres which are enough for a weekend away.
Coast2Coast Cars have access to a range of offers for the classic Porsche 911 for any spec and any model. Don't pay list price if you use our online offers quote system you could save £1,000's. It couldn't be easier, simply fill in the form, choose your spec and let Coast2Coast Cars search our extensive database for your selected car spec at a reduced price. Porsche finance is also an option should you require this subject to status, ask the dealer about what options you have.