Best UK prices on Porsche Boxster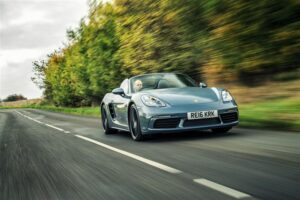 Take the iconic Porsche and add roof down motoring and what you get is the ultimate everyday sports car. Oozing classic curves and technology the Porsche Boxster needs no introduction. With an impressive 0-62mph of 5.1 seconds for the entry-level manual, the Boxster is fast and with fuel return up to 38.2mpg, it's also not the worst for fuel-efficiency considering what you are driving.
The interior feels refined and with lower seats you feel more involved with the car. There are more space and more comfort and with a hood that takes just 9 seconds to open or close you can be ready for those short but sweet moments of sunshine.
You won't need educating that the Porsche Boxster is fun to drive, with road grip and handling, especially around corners that makes every journey a sense of adventure.
The brakes are more than adequate to handle the car and ensure safety at all times.
Boot space is limited however big enough for weekends away at 150 litres.
A classic in every sense the Porsche Boxster is worth every penny. However, we can make it cost fewer pennies to own thank to our special relationship with Porsche dealers based around the UK. What's more, we can locate the exact colour, spec and build of Porsche Boxster you require. Our service here at Coast2Coast Cars is free to you and with no obligation at any time. Our step by step form enables you to build the car you require and we go and source it, often at substantially reduced prices from list price. Finance can be an option too should you require this.