Best UK prices on Porsche Cayenne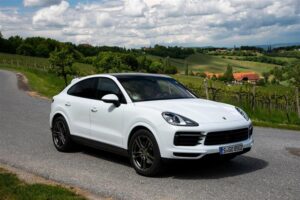 The Porsche Cayenne takes the supercar performance and adds a whole heap of space. This stunning SUV combines agile and responsive handling with the practicality of the classic sports utility vehicle. The 3rd generation version yet again improves what was already an accomplished example.
The drive and feel are of the classic Porsche however you know have 5 seats, off-road ability and plenty of space for luggage or equipment. The Cayenne comes in 9 variations with the most powerful Cayenne Turbo S reaching 62mph in a staggering 4.1 seconds. The standard diesel entry version hits 62mph in a thrilling 7.3 seconds with fuel consumption at 41.5mpg.
The interior is of the usual high Porsche standard and is impeccably crafted with solid buttons and attention to detail that would put a chess player to shame.
The entry-level Cayenne comes with 18-inch alloys, cruise control, a 7-inch touch screen and dual-zone climate control. Boot space is a pleasing 670 litres.
Build the Porsche Cayenne of your dreams and save money with Coast2Coast Cars free quote help. It's our easiest quotation system ever and gives you fast access to the latest money-saving deals. The staff here offer a personal and professional service and our aim is to help you save thousands on your next Porsche. You don't need to accept our quotes so can walk away at any time. Our service is totally free and we can take the hassle, stress and time wasted out of buying a new Porsche. See what finance options you may have too when you speak to the dealer.