Cupra Ateca
Are you ready to experience the Cupra Ateca?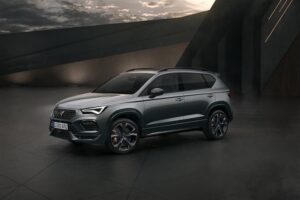 The Cupra Ateca is elegantly powerful, with a 300PS engine it goes from 0-62mph in 4.9 seconds. It has road-ready technology making an enhanced driving experience made possible by six versatile driving modes, a DSG automatic gearbox and 4WD technology.
Who makes Cupra Ateca? The Ateca is a compact crossover SUV manufactured by Spanish automaker SEAT – but don't call it a SEAT…. Cupra is now a brand, rather than a name for versions of the SEAT models. The Ateca is the brands first standalone model, sitting in the middle of regular crossovers and SUVs, offering great value for money.
In many ways, the SUV category has become just as varied as the passenger car category and there really is a credible slate of SUVs that think they're sports cars. So, how much is a Cupra Ateca? The Cupra Ateca currently starts from around £37,000.
The Cupra Ateca could be considered a latecomer to the SUV market in 2016, but few could argue it's wasted any time playing catch-up. Combining excellent practicality, keen pricing and sharp handling, the Ateca is now one of the Spanish manufacturer's most popular models.
A facelift in 2020 refreshed the bumpers and lights, and there's plenty of new technology despite a fundamentally unchanged interior. It remains competitive on all fronts, but newer rivals show how much progress has been made in interior design since it was launched.
Just as with the Cupra Formentor, the Ateca has a multi-adjustable drive programme, accessed by pressing a small bronze-edged button on the steering wheel. The button itself
features a bronze Cupra badge on it – a theme that runs throughout much of the interior – and when you press it, you scroll through a variety of modes, ranging from comfort all the way up to sport with individuals in between.
Performance and drive
The Ateca is one of the best-handling family SUVs, cornering really well as it has a lower, stiffer suspension control. The engine is inherently strong and responsive. The steering response is smooth and light, whilst the brake response is soft underfoot and stops the car well repeatedly from higher speeds.
The engine line-up consists of both petrol and diesel in a wide range of outputs. Petrol: 1.0-litre three-cylinder unit and a pair of four-cylinders in 1.5-litre and 2.0-litre sizes. Diesel: there's a choice of 115hp or 150hp 2.0-litre TDI engines. 2020 saw the entry-level 1.6-litre diesel replaced by a 2.0-litre with similar power, while the higher-powered 190 TDI was dropped.
There are six trim levels to choose from, you can pick from SE, SE Technology, FR, FR Sport, Xperience and Xperience Lux specifications. 4Drive all-wheel drive with DSG automatic gearbox can be specified as well, meaning there should be something to suit most tastes. All Cupra Atecas ride on 19-inch alloy wheels, and adaptive dampers are fitted as standard. The 2020 Cupra has reworked the steering in order to improve the response, although otherwise, the mechanical set-up is largely the same as before.
The new Cupra Ateca features side and exit assist for when you're leaving a parking space, and blind-spot monitoring. And when you just want to get to your destination, it now also includes predictive adaptive cruise control, which reads the road ahead to automatically adjust your speed, and travel assists, so the Cupra can essentially drive itself in some situations.
Interior
The Cupra Ateca 2021 has gained an upgraded 9.2in the infotainment system. The new system features a sat-nav, online traffic information, voice control and a wireless phone charger as standard. Or, you can bypass Seat's system entirely by using the car's Apple CarPlay/Android Auto smartphone mirroring instead.
The rev counter is displayed on a 10-inch digital screen that can be customised to show a variety of driving and media functions, is only one of many details within the cabin that carries Cupra's signature colour. The FR Black edition receives gloss black interior and exterior trim, leather-trimmed heated front sports seats and SEAT's digital cockpit system.
In the front, there is great headroom, lots of storage for all accessories and the seats slide back a long way. The back is nice and roomy too. It also features a larger boot than most rivals and should comfortably hold enough luggage for a family of four on a week's holiday.
What Coast2Coast can do for you
Coast2Coast have a network of UK franchised dealers who offer our customers special Seat Ateca Cupra deals, with full manufacturers warranties for your peace of mind. We can help you buy a brand new Cupra Ateca or find a second-hand version. We can also offer part exchange on your old model. Once the order has been placed with the franchised dealer,
and a deposit contribution agreed, you will have full contact with that dealer and payment for the vehicle will be made direct to them. We then receive a commission direct from them.
If you are looking for SEAT Cupra Ateca leasing deals, look no further. Here at Coast2Coast, we offer various car leasing deals, whether you are looking for a business or personal lease deals, there will be vehicles and offers available to you that will help you find the best deals to fit your requirements.
Our dealers offer a full range of finance offers including Personal Contract Purchase with an optional final payment at the end of the contract, Personal Contract Hire, Hire Purchase and more. Throughout the transaction, we are available to provide help and advice where needed on your personal offers. Note that tear charges may apply depending on the contract.
Please note we are a broker, not a lender. Credit brokers will have a registered office in England and are authorised and regulated by the Financial Conduct Authority, terms and conditions will apply, and all offers will be subject to status. Monthly payments will need to be made on all contracts for the length of the agreement, and the vehicle may need to be returned on final payment depending on the type of contract