Cupra Formentor
Let your heart choose for once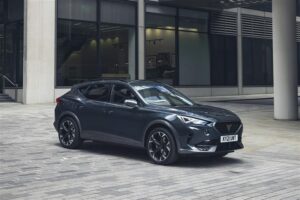 The Cupra Formentor is pure performance. With a 2.0-litre/310PS engine, 4Drive technology and a 7-speed direct shift gearbox, it is thrilling in every sense. With early recognition, the Formentor emerges as a serious contender for its competitors. Its technology centres around you with intuitive digital features for a superior driving experience.
Formentor SUV is a handsome SUV that drives every bit as good as it looks. It's well spec'd, fun to drive, roomy on the inside and features much new safety tech, much of it fitted as standard.
Just as with the Cupra Ateca, the Formentor has a multi-adjustable drive programme, accessed by pressing a small bronze-edged button on the steering wheel. The button itself features a bronze Cupra badge on it – a theme that runs throughout much of the interior – and when you press it, you scroll through a variety of modes, ranging from comfort all the way up to sport with individuals in between.
The Cupra Formentor is a compact crossover SUV, marketed as an SUV coupé, manufactured by the Spanish car manufacturer SEAT under their Cupra performance-oriented sub-brand. The production version was revealed in March 2020, it is named after the Formentor peninsula on the Spanish island of Majorca, with production starting in late September 2020.
The Cupra Formentor represents the dawn of a new era for SEAT's spin-off brand, Cupra, one that highlights the brand's move to offer eco-friendly plug-in hybrids and fully electric cars as well as petrol models. So, how much is a Cupra Formentor? The Cupra Formentor starts from around £40,000.
Performance and drive
The Formentor was first available just as a high-performance 4 wheel drive 306bhp 2.0-litre petrol engine, which was already in use in the Cupra Ateca, with a top speed of 155mph. Now, the range also includes two plug-in hybrids (with 201 and 242bhp) and a further three petrol engines with 148, 187 or 242bhp. If you're after something that's quick enough and not too expensive to run, we recommend the entry-level 148bhp 1.5 TSI 150 petrol engine.
If you're after a hybrid plug-in, we say go for the Cupra Formentor E Hybrid 204. With a combined power output (including the electric motor) of 201bhp, it can sprint from 0-62mph in 7.8sec. It can also cover up to 37 miles (officially) on electric power alone.
Above that, there are the eHybrid 245 VZ2. It's priced from £40,560 and features the same four-cylinder 1.4-litre petrol engine, electric motor and13kWh battery pack as the latest Volkswagen Golf GTE. The new Cupra Formentor and the BMW x2 m35i, are both all-wheel drive and automatic, but in terms of drive and driving dynamics, the Cupra wins. Cupra Formentor is 7.9 cm longer and 12.4 cm lower compared to Land Rover Range Rover Evoque.
The standard six-speed manual gearbox is easy to use, with a defined clutch bite, and any Formentor with the seven-speed dual-clutch automatic gearbox changes gears quickly and smoothly. The Formentor steers sweetly, with great weighting and accuracy; with a little feel from the road surface and a sense of the grip.
There's a five-step trim line-up to choose from, starting with V1 and finishing with VZ3, although a VZ Edition limited-numbers version is available at launch with special copper/black two-tone 19in alloy wheels.
The Cupra Formentor features side and exit assist for when you're leaving a parking space, and blind-spot monitoring. And when you just want to get to your destination, it now also includes predictive adaptive cruise control, which reads the road ahead to automatically adjust your speed, and travel assists, so the Cupra can essentially drive itself in some situations.
Interior
The driver's seat is comfy on long journeys as well as supportive through corners. It sits low for an SUV, but there are eight adjustments and adjustable lumbar support which is standard on all models.
The infotainment system has a 12.0in touchscreen, sat-nav, a DAB radio, four USB-C ports, wireless phone charging and Apple CarPlay/Android Auto phone mirroring. The screen is bright and clear and the operating system is mainly responsive.
The Cupra Formentor has loads of headroom in the front and its seats slide back a long way, for maximum legroom plus you'll find an array of storage for all your accessories, and it has a heated steering wheel for colder climates. The rear passenger space is good. The Formentor feels similar to a coupe version of the Cupra Ateca and is likely to appeal to hot hatch buyers or anyone considering a sporty estate car.
The Formentor's boot at 450 litres will deal easily with holiday luggage, a buggy or golf clubs. The exception is the e-Hybrid, which drops capacity down to 345 litres. Going skiing? There's a ski hatch for poking those long items through, in addition to split-folding rear seats, for the occasions when you have something larger to transport.
What Coast2Coast can do for you
Looking for Cupra Formentor deals? Coast2Coast have a network of UK franchised dealers who offer our customers special Cupra Formentor UK prices, with full manufacturers warranties for your peace of mind. We can help you buy a brand new Cupra Formentor or find a second-hand version. We can also offer part exchange on your old model.
Once the order has been placed with the franchised dealer, and a deposit contribution agreed, you will have full contact with that dealer and payment for the vehicle will be made direct to them. We then receive a commission direct from them.
If you are looking for Cupra Formentor leasing deals, look no further. Here at Coast2Coast, we offer various car leasing deals, whether you are looking for a business or personal lease deals, there will be vehicles and offers available to you that will help you find the best deals to fit your requirements.
Our dealers offer a full range of finance offers including Personal Contract Purchase with an optional final payment at the end of the contract, Personal Contract Hire, Hire Purchase and more. Throughout the transaction, we are available to provide help and advice where needed on your personal offers. Note that tear charges may apply depending on the contract.
Please note we are a broker, not a lender. Credit brokers will have a registered office in England and are authorised and regulated by the Financial Conduct Authority, terms and conditions will apply, and all offers will be subject to status. Monthly payments will need to be made on all contracts for the length of the agreement, and the vehicle may need to be returned on final payment depending on the type of contract.