Cupra Leon
Are you ready to experience the Cupra Leon?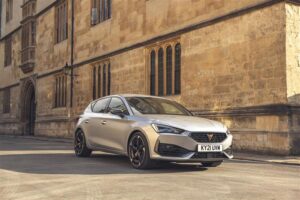 The Cupra Leon has a superb performance engine with all the benefits of a PHEV, enjoy up to 32 miles of emission-free urban driving. Pure performance 0-62 in just 6.4 seconds and a max speed of 155mph. Intuitive digital features with technology-centred around you, for a superior driving experience. Plus, Cupra Leon lights the way with full LED technology from bonnet to bumper, including the coast-to-coast light and LED dynamic indicators.
The Cupra Leon is a stylish, high-performance take on the standard hatchback and a desirable alternative to mainstream rivals. From 2020 you can order the Leon as a PHEV, called the eHybrid, powered by a 1.4-litre turbocharged petrol engine paired with an electric motor, a combination that delivers up to 242bhp.
From 2021, the Cupra Leon will also come with a choice of body styles, and two or four-wheel drive, in a regular shape 2.0-litre turbocharged petrol with 242bhp (the same as the PHEV) or 296bhp, and a 306bhp estate. Cupra Leon is only available with a seven-speed dual-clutch automatic. How much are the new Leon Cupra? Prices start from £31,555.
The Leon has an eye-catching exterior trim painted copper giving it a distinctive look. Seven colours are offered, and the matt-finish graphene grey works particularly well, helping the Cupra Leon stand out. Magnetic tech and asphalt blue matte paint are on the list for a more unique look
Performance and drive
Every Leon has plenty of grips, and you can make rapid progress in any of them. The 296bhp 2.0 TSI 300 has performance aplenty, and you don't have to work the engine at all hard to unlock its potential, it's born ready if you spot an overtaking opportunity.
The 306bhp 2.0 TSI 310 estate is faster still, its engine can also be found in the Cupra Formentor coupé SUV. Is the Seat Leon Cupra 4 wheel drive? Like the Formentor, the 310 estate has 4Drive four-wheel drive as standard, and the resulting extra traction it has helps make it one of the quickest-accelerating hot hatchbacks, blasting from 0-62mph in 4.9sec.
Interior
Leon's seats are comfortable on long journeys and supportive through corners. There is an edgy design throughout, and round steering wheel buttons for starting the engine and changing driving modes add a motorsport feel.
Technology impresses with every version getting digital and a 10-inch infotainment screen. The latter offers gesture and voice control and plentiful connectivity, including Android Auto and wireless Apple CarPlay.
For parents of younger children, there are two Isofix points for the outer rear seats, making it easier to fit and remove child seats.
What Coast2Coast can do for you
Coast2Coast have a network of UK franchised dealers who can offer customers special Leon Cupra deals, with full manufacturers warranties for your peace of mind. We can help you buy a brand new Cupra Leon or find a second-hand version.
Once the order has been placed with the franchised dealer, and a deposit contribution agreed, you will have full contact with that dealer and payment for the vehicle will be made direct to them. We then receive a commission direct from them.
If you are looking for Cupra Leon leasing deals, look no further. Here at Coast2Coast, we offer various car leasing deals, whether you are looking for a business or personal lease deals, there will be vehicles and offers available to you that will help you find the best deals to fit your requirements. Some contracts may be subject to excess mileage conditions.
Our dealers offer a full range of finance offers including Personal Contract Purchase with an optional final payment at the end of the contract, Personal Contract Hire, Hire Purchase and more. Throughout the transaction, we are available to provide help and advice where needed on your personal offers. Note that tear charges may apply depending on the contract.
Please note we are a broker, not a lender. Credit brokers will have an office registered in England and authorised and regulated to provide financial services regulated by the Financial Conduct Authority, terms and conditions will apply, and all offers will be subject to status. Monthly payments will need to be made on all contracts for the length of the agreement, and the vehicle may need to be returned on final payment depending on the type of contract.