Dacia Sandero Stepway
Small but mighty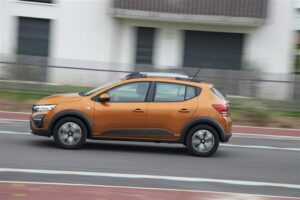 Totally redesigned from the ground up, the all-new Sandero Stepway features rugged SUV styling, LED Y-shaped headlights, roof bars, hill start assist, air conditioning and emergency brake assist all as standard, they really are redefining the essentials. Generous boot and interior space have plenty of room for life's essentials ensuring you're always ready for your next adventure.
The Stepway is a crossover version of the Sandero – they share the same platform, but the Stepway is perfect for motorists who finds themselves driving down muddier roads. Now in its second generation, it features raised ride height, grey plastic side skirts, over-fenders, and crossover-look bumpers. The Dacia Sandero Stepway isn't just a great car for the money, it's a great car all around. The step-up in quality, refinement and technology is huge.
There is the choice of three turbocharged three-cylinder engines, all 1.0-litre in capacity. There are 65hp and 90hp outputs for petrol models, with a 100hp bi-fuel version that will run on LPG as well as petrol.
Performance and drive
Light steering makes it good to drive around town and park, plus visibility out of the front is good so you'll be able to squeeze into tight spots easily. The soft-set suspension makes light work of road bumps. It really is impressive for something this cheap.
Interior
You'll need to go for Comfort or Prestige if you want an infotainment system, the standard car gets a very basic radio. The 8-inch display is dead simple but functions well, supporting both Apple CarPlay and Android Auto wirelessly.
You get a built-in phone holder too which is pretty handy, though if your phone's big it'll probably block the view. The boot space is the same as the Sandero supermini at 348 litres. However, an adjustable boot floor and modular roof bars ensure you have plenty of flexibility when transporting larger items.
About Coast2Coast
Since starting out in 1999, we have built an enviable reputation for being able to provide the best deals on the web for your new car, and this applies to purchase or lease. We have full knowledge of all the brands we offer and can advise you on specific issues concerning the
vehicle of your choice. We welcome both private and business customers. And offer part exchange too.
Our team is dedicated to working with you. So, if your needs change, your budgets change, or you feel a deal isn't quite right then we will begin the search again. As a car broker, it is our job to work with you to help you find deals that simply work.
What Coast2Coast can do for you
Buy a new or used Dacia Sandero Stepway at a price you'll love from us. Coast2Coast have a network of UK franchised dealers who can offer customers special best deals on Dacia Sandero Stepway, with full manufacturers warranties for your peace of mind.
Once the order has been placed with the franchised dealer, and a deposit contribution agreed, you will have full contact with that dealer and payment for the vehicle will be made direct to them. We then receive a commission direct from them.
If you are looking for Dacia Sandero Stepway leasing deals, look no further. Here at Coast2Coast, we offer various car leasing deals, whether you are looking for a business or personal lease deals, there will be vehicles and offers available to you that will help you find the best deals to fit your requirements. Some contracts may be subject to excess mileage conditions.
Our dealers offer a full range of finance offers including Personal Contract Purchase with an optional final payment at the end of the contract, Personal Contract Hire, Hire Purchase and more. Throughout the transaction we are available to provide help and advice where needed on your personal offers. Note that tear charges may apply depending on the contract and that we do acts as a credit broker.
Credit brokers will have a registered office registered in England and authorised and regulated to provide financial services under regulation by the Financial Conduct Authority, terms and conditions apply, and all offers will be subject to status. Monthly payments will need to be made on all contracts for the length of the agreement, and the vehicle may need to be returned on final payment depending on type of contract.