Hyundai i30
A classically versatile family hatchback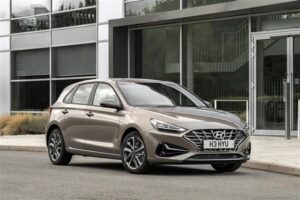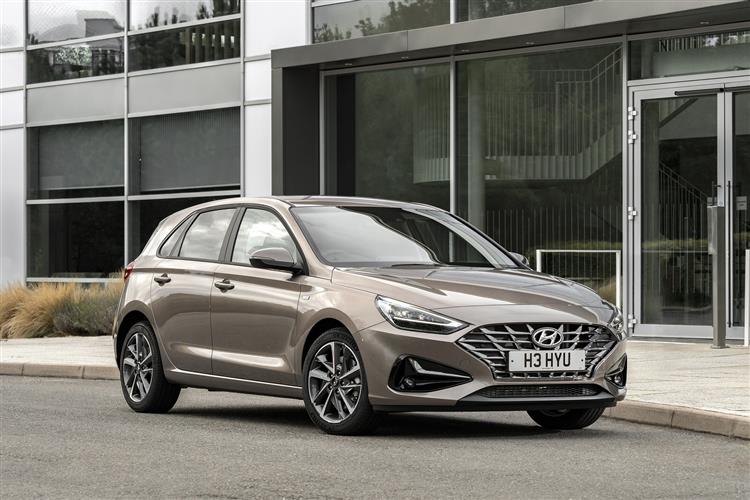 The timeless design concept of the i30 family hatchback is reflected in the quality and passion that shines in every detail. The simplicity of the driver-focused cabin and dashboard creates a perceptible feeling of quality, elegance and space. The i30 is among the roomiest in it class for driver and all passengers. With a comprehensive array of standard safety features, the i30 offers all its occupants reassuring peace of mind.
The Hyundai i30 is classed as a small family car manufactured by the South Korean manufacturer, Hyundai Motor Company, since 2007. Where is the Hyundai i30 made? It is made in Europe at the company's manufacturing facility in Czech Republic. The i30 is available as a three-door hatchback (2012–2017), five-door hatchback, five-door estate and five-door Liftback (2017–present), with a choice of two diesel engines and three petrol engines, all with either manual or automatic transmission.
FAQs
How much is a Hyundai i30? Hyundai i30 on-the-road price starts from £7,500 and rises to around £32,000, depending on the version, and if new or used. If you are asking, are Hyundai i30 good cars? The verdict from Car Expert – 'eminently practical and excellent to drive. If it's fuss-free motoring you're after, the i30 delivers at a reasonable price'. Our Hyundai i30 reliable? According to carwow, the Hyundai i30 is a reliable alternative to the Volkswagen Golf and Ford Focus hatchbacks. Answers to other FAQs including how to open Hyundai i30 boot, and how to change the fuel filter on Hyundai i30 diesel, will be included in the owner's manual.
Performance and drive
The Hyundai i30 is a capable and well-rounded car, that easily competes with the best in class when it comes to long-distance refinement. The i30 is a comfortable cruiser, so you won't notice surface imperfections, keeping things calm for passengers.
The entry-level 1.0-litre engine comes with the option of a seven-speed automatic gearbox, alongside the standard-fit six-speed manual, just like the diesel and the more powerful petrol. The automatic option costs approximately £1,200 across the range, barely affects fuel economy and shifts smoothly under gentle acceleration.
The new i30 features do not feature Lane Keeping Assist, because it has Lane Following Assist (LFA). When activated, it keeps the car centred in its lane at speeds between 0 and 180 km/h on highways and city streets.
Interior
The i30 feels well-built and nicely designed, with a clear infotainment screen. All versions get Apple CarPlay and Android Auto, while the top version also gets Hyundai's inbuilt sat-nav system. Hyundai is good at ergonomics and the car feels solidly put together.
What Coast2Coast can do for you
Buy a new or used Hyundai i30 at a price you'll love from us. Coast2Coast have a network of UK franchised dealers who can offer customers the best deals on Hyundai i30, with full manufacturers warranties for your peace of mind.
Our team is dedicated to working with you. So, if your needs change, your budgets change, or you feel a deal isn't quite right then we will begin the search again. As a car broker and authorised dealer, it is our job to work with you to help you find i30 deals that simply work.
Once the order has been placed with the franchised dealer, and a deposit contribution agreed, you will have full contact with that dealer and payment for the vehicle will be made direct to them. We then receive a commission direct from them.
If you are looking for Hyundai i30 lease deals, look no further. Here at Coast2Coast, we offer various car leasing deals, whether you are looking for a business or personal lease deals, there will be vehicles and offers available to you that will help you find the best deals to fit your requirements. Some contracts may be subject to excess mileage conditions.
Our dealers offer a full range of best deals on Hyundai i30 finance offers including Personal Contract Purchase with an optional final payment at the end of the contract, Personal Contract Hire, Hire Purchase and more. Throughout the transaction, we are available to provide help and advice where needed on your personal offers.
Credit brokers will have a registered office registered in England and will be authorised and regulated by the Financial Conduct Authority. Terms and conditions will apply, and all offers will be subject to status. Monthly payments will need to be made on all contracts for the length of the agreement, and the vehicle may need to be returned on final payment depending on the type of contract.