Hyundai Kona
Taking it to the next level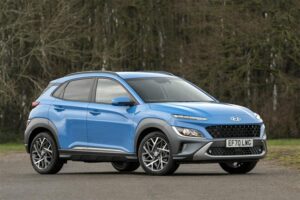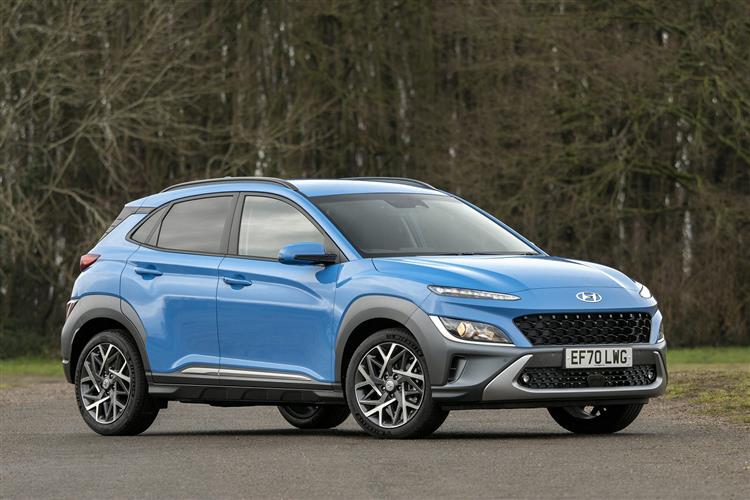 Expressive from every angle, the Kona takes sculpted lines and stylish to the next level with design enhancements and the latest smart tech like cutting-edge connectivity and safety features.
The Hyundai Kona is a five-door subcompact crossover SUV produced by the S Korean manufacturer Hyundai. The Kona debuted in June 2017 and the production version was revealed later that year. The electric version called the Kona Electric (or Kona EV) was first launched in South Korea in the first half of 2018. Where is Hyundai Kona made? They are made in Europe at the company's manufacturing facility in the Czech Republic.
FAQs
How much is the Hyundai Kona? Hyundai Kona on-the-road price starts from £9,100 and rises to around £27,000, depending on the version, and if new or used. How much is the Hyundai Kona Electric? Hyundai Kona Electric on-the-road price starts from £15,400 and rises to around £37,200, depending on the version, and if new or used. What is the top speed of the Hyundai Kona? Max speeds range from 95.69 to 126.8 mph.
So, what car? Hyundai Kona electric or Kona hybrid or Kona petrol or more recently mild hybrid? If you are asking, which Hyundai Kona to buy? The Hyundai Kona gives you plenty of choices, there's a version to suit you:
On the Kona EV front there is a choice of the standard version with a 39 kWh battery, producing 134bhp, or a variant with a 64 kWh battery delivering 201bhp. The full hybrid model employs a 1.6-litre petrol engine and an electric motor for a total output of 139bhp.
Hyundai introduced a new 1.0-litre mild-hybrid powertrain with 48-volt hybrid tech, that sits alongside the full hybrid and the pure-electric versions. The 1.0 T-GDI is a three-cylinder turbocharged petrol motor, producing 118bhp and 172Nm of torque.
SE Connect, Premium and Ultimate trim levels are available throughout the range, with standard equipment including 17-inch alloy wheels, rear parking sensors, cruise control, a 10.25-inch digital instrument display and smartphone connectivity. Customers also have the option of upgrading to the sporty N Line, with more aggressive rear and front styling, 18-inch wheels as standard and branded trim.
Is Hyundai Kona 4 wheel drive? The 1.0 litre comes with a six-speed manual gearbox driving the front wheels. The 1.6 is limited to the higher trim levels and can be ordered with on-demand four-wheel drive, complete with a differential lock and electronic hill-descent control; the 4×4 version comes with a seven-speed dual-clutch automatic. This all-wheel-drive (AWD) Kona also has a multi-link rear axle, the 1.0's rear end suspended by a coil-sprung torsion-beam axle.
Performance and drive
The mild-hybrid Kona has a six-speed manual gearbox as standard, the full hybrid has a six-speed DCT auto transmission. The chassis and suspension provide a polished ability to absorb the bumps and jolts from rutted urban roads, even with the 18-inch alloy wheels. The Kona is quiet, and the wind noise is well isolated.
The Kona Electric goes around corners in much the same way as its combustion counterparts, but it is quieter and smoother too.
Interior
Equipment levels are good, connectivity is built into the Kona with Bluetooth®, Apple CarPlay™ and Android Auto™ as standard on all trim. There's also premium audio available from Krell, one of America's oldest and most respected manufacturers of high-end audio equipment. N Line trim also benefit from an immersive 8-speaker system with an external amplifier and subwoofer.
What Coast2Coast can do for you
Buy a new or used Hyundai Kona at a price you'll love from us. Coast2Coast have a network of UK franchised dealers who can offer customers special best Hyundai Kona deals, with full manufacturers warranties for your peace of mind.
Our team is dedicated to working with you. So, if your needs change, your budgets change, or you feel a deal isn't quite right then we will begin the search again. As a car broker and authorised dealer, it is our job to work with you to help you find Kona deals that simply work.
Once the order has been placed with the franchised dealer, and a deposit contribution agreed, you will have full contact with that dealer and payment for the vehicle will be made direct to them. We then receive a commission direct from them.
If you are looking for Hyundai lease deals, look no further. Here at Coast2Coast, we offer various car leasing deals, whether you are looking for a business or personal lease deals, there will be vehicles and offers available to you that will help you find the best deals to fit your requirements. Some contracts may be subject to excess mileage conditions.
Our dealers offer a full range of Hyundai finance offers including Personal Contract Purchase with an optional final payment at the end of the contract, Personal Contract Hire, Hire Purchase and more. Throughout the transaction, we are available to provide help and advice where needed on your personal offers.
Credit brokers will have a registered office registered in England and will be authorised and regulated by the Financial Conduct Authority. Terms and conditions will apply, and all offers will be subject to status. Monthly payments will need to be made on all contracts for the length of the agreement, and the vehicle may need to be returned on final payment depending on the type of contract.