Hyundai Tucson
Revolutionary design | Electrifying performance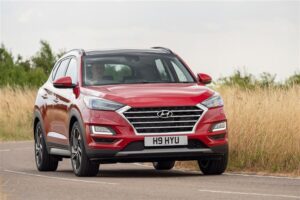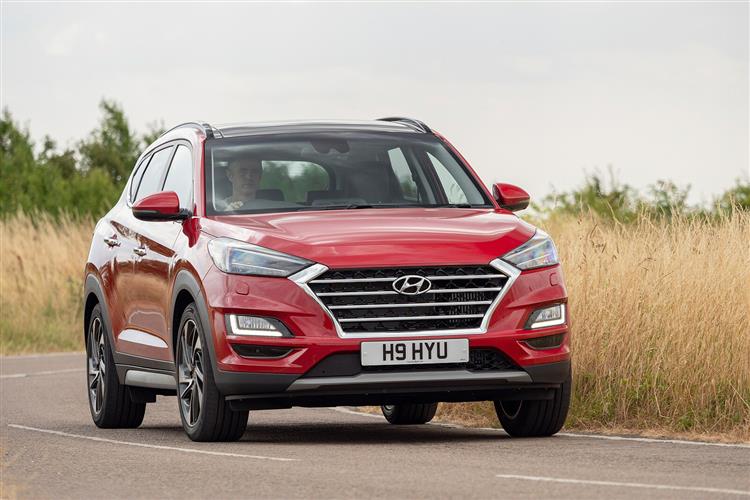 Welcome to the revolution. Experimentally advanced, the all-new Tucson is not simply an evolution of its predecessor, but a full-blown design revolution. Leading the way in design progression, it offers state-of-the-art smart tech and the most electrified powertrain line-up in its segment.
With best-in-class advanced driver-assistance systems and a comprehensive active safety package, the all-new Tucson delivers even more safety and peace of mind for you and the people you love. Available in Hybrid and Plug-In Hybrid, Petrol and Mild Hybrid.
The Hyundai Tucson is a compact crossover SUV produced by the South Korean manufacturer Hyundai since 2004. In the brand's line-up, the Tucson fits above the Kona and below the Santa Fe. The Tucson is the best-selling Hyundai SUV model, with more than 7 million units sold globally since it launched in 2004. Of these, 1.4 million units have been sold to the European market. Where is Hyundai Tucson manufactured? It's built at Hyundai's factory in Montgomery, Alabama, USA. Prior to this, Tucson was made in Hyundai's home country of South Korea.
FAQs
How much is new Hyundai Tucson? Hyundai Tucson on-the-road price starts from £28,710 and rises to around £42,300, depending on the version. Used prices start from £20,220 rising to £35,900. Is Hyundai Tucson a good car? The verdict from carwow – 'The Hyundai Tucson ticks all of the family car boxes, with practicality and a good interior its strongest points.' How much weight can a Hyundai Tucson carry? 565 to 658 kg.
How reliable is Hyundai Tucson? The 2019 Tucson had a 4 out of 5 reliability rating. Because of this good recent track record, Consumer Reports state that the 2019 Tucson is the most reliable SUV in its segment. Is Hyundai Tucson all-wheel drive? Hyundai all-wheel
drive models include the Hyundai Kona, Tucson and Santa Fe. Answers to other FAQs including how to start a Hyundai Tucson, and how to start Hyundai Tucson, will be included in the owner's manual.
The range line-up starts with SE Connect, N Line and N Line S, the Premium and the top-of-the-range Ultimate. Top-spec models feature luxuries such as adaptive cruise control, electric tailgate, a panoramic glass sunroof, heated and ventilated front seats and wireless mobile phone charging.
Power options centre around 1.6-litre turbocharged petrol with varying degrees of tune and hybrid assistance. There is a 148bhp petrol-only model with a regular six-speed manual gearbox or, trade-up to a slightly more efficient version with 48-volt mild-hybrid tech and either 148bhp or 178bhp.
The full hybrid is also available, using a 1.49kWh battery and a 59bhp electric motor that works with the petrol engine to produce a 227bhp output. The engine options are rounded off with a 261bhp four-wheel-drive plug-in hybrid version. There a not diesel options in the range.
The full and plug-in hybrid cars are available with a six-speed auto transmission, while the 148bhp and 178bhp mild-hybrid variants employ a seven-speed dual-clutch auto. The lower-powered version is also available with Hyundai's six-speed Intelligent Manual Transmission (IMT) which uses electronics to assist with changing gear, rather than operating a conventional pedal for the clutch.
Performance and drive
The hybrid powertrain works well at both motorway speeds and around town. Tucson has the ability to manage decent agility through corners while remaining controlled and composed.
There are two suspensions to choose from. The standard set-up with conventional springs and dampers in most models, then there are the high-spec Tucson's available with electronically controlled adaptive dampers with two settings, Normal and Eco-drive, to get a comfort-biased softer ride, while Sport mode gets a firmer set-up, which also alters the weight of the steering. In the bends, all models have plenty of grips.
Interior
Stepping into Tucson's sophisticated and spacious interior is like entering a neatly organised room. Here, space, information and technology interact harmoniously. Featuring sensuous, high-quality soft-touch materials throughout the interior, taking the look and feel to a new level. The three-zone climate control (standard on Ultimate) allows rear and front passengers to fine-tune the temperature in their section of the cabin.
The all-new Tucson gives you ultimate comfort at all levels. Cloth interior is available on SE Connect and Premium trim and leather is available on Ultimate trim. You'll find clever, convenient touches throughout the all-new Tucson. Premium trim comes with front heated seats and Ultimate trims come with front and rear heated seats. The Ultimate trim also includes three-zone climate control with direct and indirect air vents, creating a more pleasant environment within the cabin.
The standard kit includes dual-zone air-con, cruise control, a rear camera, a 10.25-inch infotainment touchscreen with sat-nav and Android Auto and Apple CarPlay
connectivity. Bluelink® Connected Car Services deliver seamless connectivity, with online voice recognition and a wide range of features to make your drive more convenient and enjoyable. On top of the many clever features you can control with the Bluelink app, a free five-year subscription to Hyundai's LIVE Services is also included with the navigation system.
About Coast2Coast
Since starting out in 1999, we have built an enviable reputation for being able to provide the best deals on the web for your new car, and this applies to purchase or lease. We have full knowledge of all the brands we offer and can advise you on specific issues concerning the vehicle of your choice. We welcome both private and business customers. And offer part exchange too.
Our team is dedicated to working with you. So, if your needs change, your budgets change, or you feel a deal isn't quite right then we will begin the search again. As a car broker, it is our job to work with you to help you find deals that simply work.
What Coast2Coast can do for you
Buy a new or used Hyundai Tucson at a price you'll love from us. Coast2Coast have a network of UK franchised dealers who can offer customers the best Hyundai Tucson deals, with full manufacturers warranties for your peace of mind.
Our team is dedicated to working with you. So, if your needs change, your budgets change, or you feel a deal isn't quite right then we will begin the search again. As a car broker, and authorised dealer, it is our job to work with you to help you find Tucson deals that simply work.
Once the order has been placed with the franchised dealer, and a deposit contribution agreed, you will have full contact with that dealer and payment for the vehicle will be made direct to them. We then receive a commission direct from them.
If you are looking for Hyundai lease deals, look no further. Here at Coast2Coast, we offer various car leasing deals, whether you are looking for a business or personal lease deals, there will be vehicles and offers available to you that will help you find the best deals to fit your requirements. Some contracts may be subject to excess mileage conditions.
Our authorised dealers offer a full range of Hyundai finance offers including Personal Contract Purchase with an optional final payment at the end of the contract, Personal Contract Hire, Hire Purchase and more. Throughout the transaction, we are available to provide help and advice where needed on your personal offers.
Credit brokers will have a registered office registered in England and will be authorised and regulated by the Financial Conduct Authority. Terms and conditions will apply, and all offers will be subject to status. Monthly payments will need to be made on all contracts for the length of the agreement, and the vehicle may need to be returned on final payment depending on the type of contract.