Hyundai i10
Make a big statement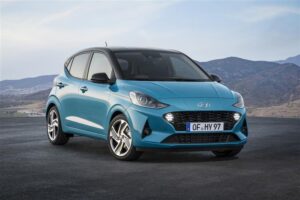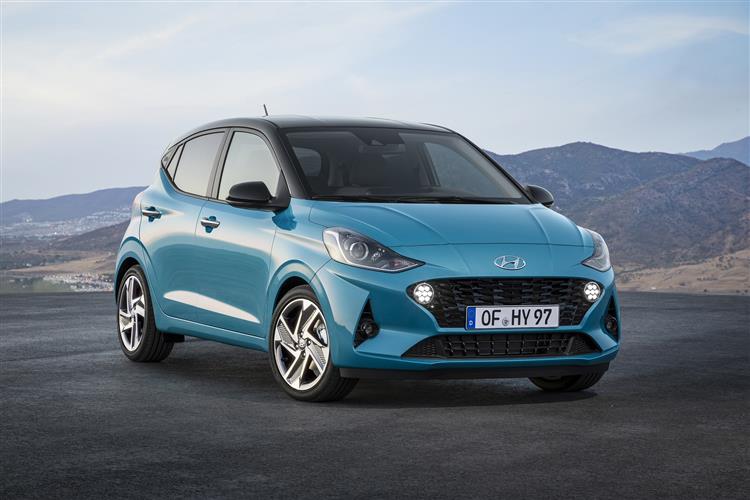 The New Hyundai i10 may be a small car, but it makes a big impression. Featuring an expressive, fresh new design, it's full of cutting-edge technology and safety equipment. The new i10 is available in 3 trims levels – SE, SE Connect and top of the range Premium.
The Hyundai i10 is a city car produced by Hyundai, the S Korean manufacturer, since 2007. The third generation i10 was unveiled in India in August 2019 and offers 10 variants across petrol and diesel engines as well as manual and automatic transmissions.
FAQs
What is the price for Hyundai i10? Hyundai i10 on-the-road price starts from £13,025 and rises to around £16,400, depending on the version, and if new or used. Is Hyundai i10 front-wheel drive? The i10 series are all front-wheel-drive layouts, with front-engines. What engine oil for Hyundai i10? Motor oil Helix Ultra 5W-30 fully complies with the specification and is the ideal lubricant for the i10.
If you are asking, is the Hyundai i10 a good car? Verdict – The new Hyundai i10 is a capable, comfortable city car, with sharper styling, good interior space, improved tech and useful practicality. It picked up the Best Small Car award in the 2021 carwow Car of the Year Awards. How many seats does a Hyundai i10 have? It has a seating capacity of 5. Answers to other FAQs including how to start Hyundai i10, how to reset the service light on Hyundai i10 and how to fold the rear seat in Hyundai i10, will be included in the owner's manual.
Performance and drive
Hyundai i10 feels right at home around town. Its dimensions and light controls mean it's easy to squeeze through gaps and to get into narrower parking spaces, plus the large windows give you a really clear view.
The entry-level car comes with a 67hp engine, then there is a 1.2-litre four-cylinder or turbocharged 1.0-litre model too, The N Line featuring a 100hp, three-cylinder turbocharge.
The 84hp and 100hp models let you fit well on a dual-carriageway or motorway trip.
The Hyundai i10 is pretty quiet for such a small car and you get loads of clever safety tech to keep you safe, including lane-keeping assist and automatic emergency braking.
Interior
Standard equipment is generous with base versions including cruise control, air conditioning, DAB radio and Bluetooth, plus a leather-trimmed, multi-function steering wheel. Moving up you get 15-inch alloy wheels, a rear-view parking camera, an 8.0-inch infotainment touch screen and smartphone connectivity.
What Coast2Coast can do for you
Buy a new or used Hyundai i10 at a price you'll love from us. Coast2Coast have a network of UK franchised dealers who can offer customers special Hyundai i10 best deals, with full manufacturers warranties for your peace of mind.
Our team is dedicated to working with you. So, if your needs change, your budgets change, or you feel a deal isn't quite right then we will begin the search again. As a car broker, it is our job to work with you to help you find i10 deals that simply work.
Once the order has been placed with the franchised dealer, and a deposit contribution agreed, you will have full contact with that dealer and payment for the vehicle will be made direct to them. We then receive a commission direct from them.
If you are looking for Hyundai i10 best leasing deals, look no further. Here at Coast2Coast, we offer various car leasing deals, whether you are looking for a business or personal lease deals, there will be vehicles and offers available to you that will help you find the best deals to fit your requirements. Some contracts may be subject to excess mileage conditions.
Our dealers offer a full range of finance offers including Personal Contract Purchase with an optional final payment at the end of the contract, Personal Contract Hire, Hire Purchase and more. Throughout the transaction, we are available to provide help and advice where needed on your personal offers.
Credit brokers will have a registered office registered in England and will be authorised and regulated by the Financial Conduct Authority. Terms and conditions will apply, and all offers will be subject to status. Monthly payments will need to be made on all contracts for the length of the agreement, and the vehicle may need to be returned on final payment depending on the type of contract.