Hyundai i20
The small family hatchback is designed to deliver styled to stand out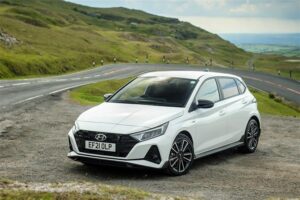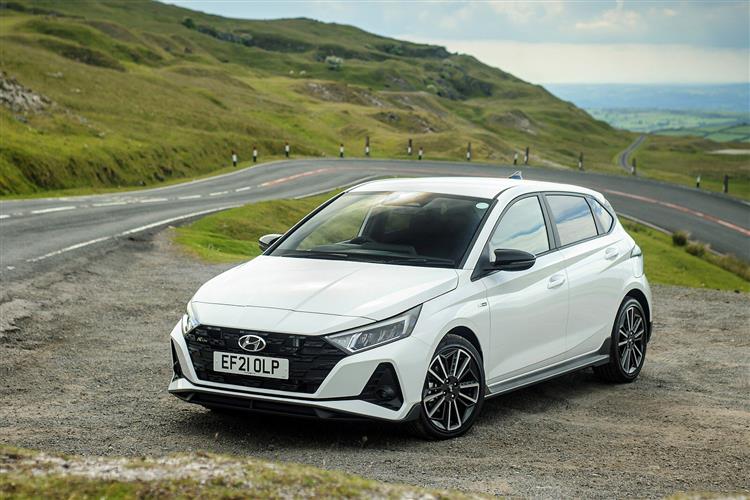 Elegant, sporty and visually stunning, every feature is confident, every curve and angle is subtly seductive. A simple layout with everything you need in easy reach, the clean and modern interior design offers sensory well-being. The i20 is fitted with Smartsense safety features to keep you and your passengers protected.
The Hyundai i20 is classed as a supermini hatchback produced by South Korean manufactured, Hyundai, since 2008. The i20 made its debut at the Paris Motor Show in October 2008 and sits between the i10 and i30 models. Currently, the largest markets for the i20 are India and Europe, with two models being developed to cater for each market.
FAQs
What is the price for Hyundai i20? Hyundai i20 on-the-road price starts from £13,500 and rises to around £19,700, depending on the version, and if new or used. How much cc is the Hyundai i20? The Hyundai i20 has 2 Petrol Engines on offer and one Diesel. What size engine is the Hyundai i20? The Diesel engine is 1493 cc while the Petrol engines are 1197 cc and 998 cc. Does the Hyundai i20 come in automatic? Hyundai i20 is available in automatic, all of which are petrol, there is no diesel automatic, only manual.
If you are asking, are Hyundai i20 good cars? The verdict from the AA – 'The Hyundai I20 is a very good car'. Is Hyundai i20 reliable? Hyundai has a really good reputation for reliability,
which will give you confidence when buying an i20. Answers to other FAQs including how to replace the Hyundai i20 battery, and does a Hyundai i20 have a cambelt, will be included in the owner's manual.
Performance and drive
The latest Hyundai i20 is the firm's most competitive entrant into the supermini market yet, is more capable than its predecessor, and is a proper Fiesta rival for fun. The smooth engine and effective mild-hybrid system are impressive too.
The ride is firm, has sharp handling and is smooth on bumps, even in the models with smaller wheel options.
Both the engine and gearbox are good, the engine pulls strongly from relatively few revs and is happy to pull higher gears at relatively low speeds, which is great for the economy, while a sport mode improves throttle response if you're feeling racy.
Interior
Equipment levels are good, the SE Connect gets cruise control, manual air-conditioning and a rear-view camera plus parking sensors; Premium and Ultimate models get heated seats and a heated steering wheel, while there's ambient lighting in the footwells to make night-time driving a little more interesting.
What Coast2Coast can do for you
Buy a new or used Hyundai i20 at a price you'll love from us. Coast2Coast have a network of UK franchised dealers who can offer customers special Hyundai i20 best deals, with full manufacturers warranties for your peace of mind.
Our team is dedicated to working with you. So, if your needs change, your budgets change, or you feel a deal isn't quite right then we will begin the search again. As a car broker and authorised dealer, it is our job to work with you to help you find i20 deals that simply work.
Once the order has been placed with the franchised dealer, and a deposit contribution agreed, you will have full contact with that dealer and payment for the vehicle will be made direct to them. We then receive a commission direct from them.
If you are looking for Hyundai i20 best lease deals, look no further. Here at Coast2Coast, we offer various car leasing deals, whether you are looking for a business or personal lease deals, there will be vehicles and offers available to you that will help you find the best deals to fit your requirements. Some contracts may be subject to excess mileage conditions.
Our dealers offer a full range of Hyundai finance offers including Personal Contract Purchase with an optional final payment at the end of the contract, Personal Contract Hire, Hire Purchase and more. Throughout the transaction, we are available to provide help and advice where needed on your personal offers.
Credit brokers will have a registered office registered in England and will be authorised and regulated by the Financial Conduct Authority. Terms and conditions will apply, and all offers will be subject to status. Monthly payments will need to be made on all contracts for the length of the agreement, and the vehicle may need to be returned on final payment depending on the type of contract.