Hyundai i30 Fastback
Add some coupe-style to the Hyundai compact hatchback formula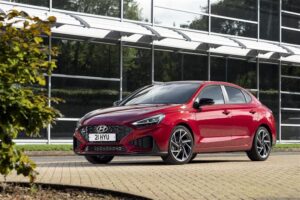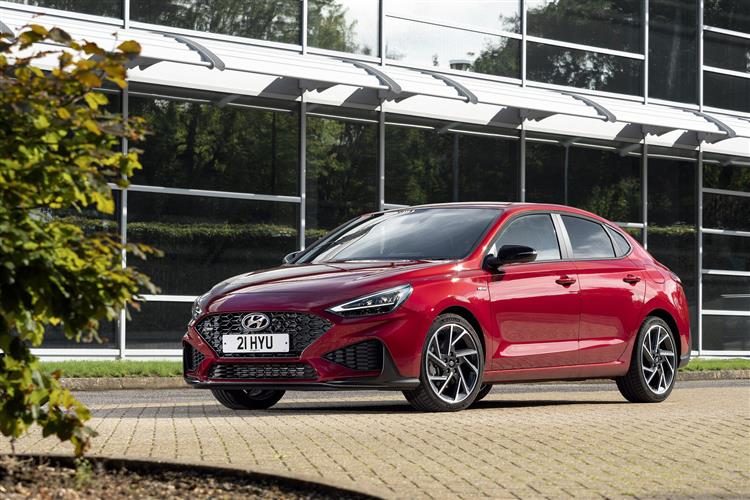 Gracefully raked lines and a sloping fastback roofline give the i30 Fastback a distinctive silhouette that sets it apart from the crowd. Get inside the i30 Fastback and you'll instantly feel the attention to detail. The simple elegance of the cabin surfaces and dashboard fixtures creates a premium feeling of space and quality. The 1.5 litres turbocharged 48v hybrid petrol engine combines performance and efficiency for a responsive yet controlled drive.
FAQs
So, what is a fastback? A liftback or fastback is a variation of the hatchback with a sloping roofline between 45 to 5 degrees, compared to a traditional hatchback design that usually has a 90 to 46-degree slope on the tailgate or rear door. The fastback is essentially a hatchback with more of a sloping roof, offering more boot space over a regular hatchback. Some fastbacks may also have an appearance like a coupé but with a tailgate hinged at the roof that is lifted to open.
How much is a Hyundai i30 Fastback? Hyundai i30 on-the-road price starts from £7,500 and rises to around £32,000, depending on the version, and if new or used. Is Hyundai i30 Fastback a woman's car? The i30 Fastback has been designed and produced specifically with a more female (and more informed) customer base in mind. Its creators hope the dynamic coupé silhouette, yet compact practical four-door design will appeal to the sort of driver who may not have considered Hyundai before.
There is the i30 Fastback, the i30 Fastback N Line and the i30 N Fastback (not to be confused with the Hyundai i30N performance maximum driving a fun car).
The Hyundai i30 Fastback brings some diversity to the crowded compact hatchback market and will attract interest from anyone looking for something other than a standard five-door hatchback. The Hyundai i30 Fastback is the third model in the i30 range and is for sale alongside the standard five-door i30 hatchback and i30 Tourer estate.
The Hyundai i30 N Line Fastback adds a little more excitement to the compact family car class. New LED lighting signature and reshaped bumper sharpen up the front end, while gloss black trim on the lower edge of the bodywork and new 18-inch alloy wheels give a more purposeful look to the car.
The Hyundai i30 N Fastback is a runaway success and has become a legend within its own lifetime – to a point where even Hyundai itself admits it never dreamed the model would be so well received, with only VW's Golf GTi selling in greater numbers within this class.
Performance and drive
The Hyundai range generally provides an all-round competent driving experience, balancing comfort with driving pleasure. The Fastback body shell is slightly stiffer, and the suspension is fractionally lower and firmer than a hatchback, but for the standard model at least the emphasis is on delivering a comfortable and ride tidy handling.
They cope well with all types of road and are impressively capable and undemanding whatever the driving conditions. The standard six-speed manual gearbox has a smooth action while the brakes offer good stopping power and are easy to modulate, too. The steering is accurate and consistent as are all the major controls, making it undemanding to operate for all drivers.
Interior
The layout is both sensible and attractive, while the materials used are of a good standard. Standard equipment is generous too, with sat-nav, Bluetooth with voice recognition, wireless phone charging and rear park assist with a rear-facing camera all included as standard.
What Coast2Coast can do for you
Looking for great deals on Hyundai i30 N Fastback for sale? Buy a new or used Hyundai i30 Fastback and Hyundai i30N at a price you'll love from us. Coast2Coast have a network of UK franchised dealers who can offer customers the best deals on Hyundai i30 Fastback cars for sale, with full manufacturers warranties for your peace of mind.
Our team is dedicated to working with you. So, if your needs change, your budgets change, or you feel a deal isn't quite right then we will begin the search again. As a car broker and authorised dealer, it is our job to work with you to help you find deals that simply work.
Once the order has been placed with the franchised dealer, and a deposit contribution agreed, you will have full contact with that dealer and payment for the vehicle will be made direct to them. We then receive a commission direct from them.
If you are looking for Hyundai i30 Fastback lease deals, look no further. Here at Coast2Coast, we offer various car leasing deals, whether you are looking for a business or personal lease deals, there will be vehicles and offers available to you that will help you find the best deals to fit your requirements. Some contracts may be subject to excess mileage conditions.
Our dealers offer a full range of best deals on Hyundai i30 Fastback finance offers including Personal Contract Purchase with an optional final payment at the end of the contract, Personal Contract Hire, Hire Purchase and more. Throughout the transaction, we are available to provide help and advice where needed on your personal offers.
Credit brokers will have a registered office registered in England and will be authorised and regulated by the Financial Conduct Authority. Terms and conditions will apply, and all offers will be subject to status. Monthly payments will need to be made on all contracts for the length of the agreement, and the vehicle may need to be returned on final payment depending on the type of contract.