Hyundai Ioniq Hybrid
Efficient self-charging hybrid technology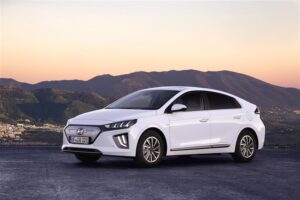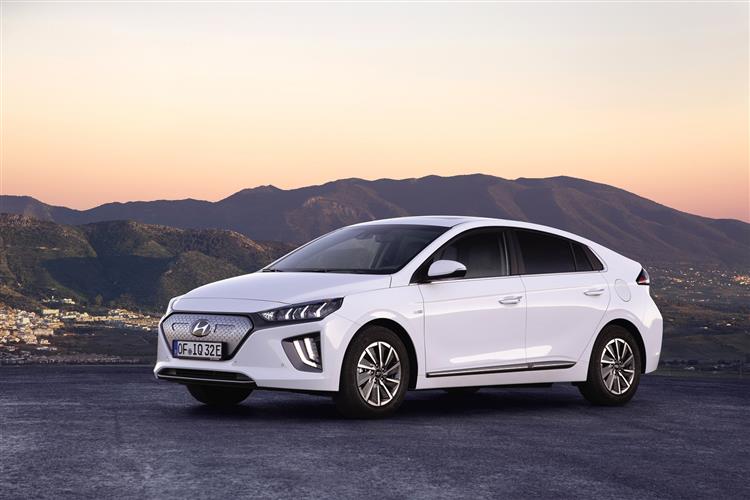 Ioniq Hybrid delivers everything you expect from a conventional car, but with all the environmental and economic benefits that come with electric car driving. The sleek, attractive coupé-style silhouette of the Ioniq Hybrid is designed with aerodynamics, aesthetics and efficiency in mind. Combining the best of traditional family car design, with a forward-looking philosophy, every element ensures a smooth and undisturbed flow of air over the car.
Simple, clean, spacious, light and pure – the interior of the Ioniq Hybrid has been designed to be effortlessly elegant, efficiently clutter-free and logically forward-thinking. The Ioniq Hybrid provides optimum comfort for drivers and passengers in all conditions and any length of the journey. Comprehensive safety equipment is included, because roads may change, but your vehicle should be stable in any situation.
The Hyundai Ioniq is a compact five-door, liftback or fastback, manufactured and marketed by Hyundai. It is marketed as the first automobile to be offered without a standard internal combustion engine but rather sold in hybrid, plug-in hybrid (PHEV) and an all-electric variant. What is the price for Hyundai Ioniq? Prices start from £8,700 and rising to around £21,890, depending on the model and trim, and if new or used.
Self-Charging Hybrid
How does Hyundai Ioniq Hybrid work? The Ioniq Hybrid is powered by a 1.6-litre petrol engine and an electric motor working together. Is the Hyundai Ioniq automatic? Yes, the
front wheels drive through a standard-fit six-speed automatic gearbox. Is the Hyundai Ioniq self charging? You simply add petrol and drive – as this model will charge itself.
Plug-In Hybrid (PHEV)
The Plug-In Hybrid has a larger battery, which needs to be plugged in occasionally. It has a pure electric range of 39 miles, and then becomes a self charging hybrid.
All-Electric Ioniq
The Hyundai Ioniq Electric is simply that; electric. You charge, you press the drive button, you go. Driving an electric car is in fact easier than driving a manual petrol car. The Ioniq is bigger and more spacious than a lot of electric hatchbacks, and it has a smaller battery. How much to charge Hyundai Ioniq? Think of it this way: if you only charged it once a week, you would cover over 10,000 miles a year.
Answers to other FAQs including how to charge Hyundai Ioniq will be included in the owner's manual.
Performance and drive
With a petrol engine and electric motor that can work together in the Ioniq Hybrid's performance is pretty good. The Ioniq Hybrid uses a six-speed dual-clutch automatic gearbox that's quiet and smooth, changing swiftly and slickly, but you can also take control manually using paddles if you wish. The Ionic has been set up to handle urban areas well, as well as faster B-roads. It has lots of cornering grip and good body control as well as smooth brakes.
Interior
Drivers are treated to plenty of seat and wheel adjustment, and pedals that are set nicely in line with the seat. Front visibility is good, and you get rear parking sensors and a rear-view camera across the range.
Equipment levels are pretty good all around, with Premium SE models getting plenty. Heated and ventilated leather seats are included, along with adaptive cruise control and automatic wipers.
What Coast2Coast can do for you
Coast2Coast have a network of UK franchised dealers who can offer customers special Hyundai Ioniq deals, with full manufacturers warranties for your peace of mind.
Our team is dedicated to working with you. So, if your needs change, your budgets change, or you feel a deal isn't quite right then we will begin the search again. As a car broker, it is our job to work with you to help you find deals that simply work.
Once the order has been placed with the franchised dealer, and a deposit contribution agreed, you will have full contact with that dealer and payment for the vehicle will be made direct to them. We then receive a commission direct from them.
If you are looking for Hyundai Ioniq leasing deals, look no further. Here at Coast2Coast, we offer various car leasing deals, whether you are looking for a business or personal lease deals, there will be vehicles and offers available to you that will help you find the best deals to fit your requirements. Some contracts may be subject to excess mileage conditions.
Our dealers offer a full range of finance offers including Personal Contract Purchase with an optional final payment at the end of the contract, Personal Contract Hire, Hire Purchase and more. Throughout the transaction, we are available to provide help and advice where needed on your personal offers.
Credit brokers will have a registered office registered in England and will be authorised and regulated by the Financial Conduct Authority. Terms and conditions will apply, and all offers will be subject to status. Monthly payments will need to be made on all contracts for the length of the agreement, and the vehicle may need to be returned on final payment depending on the type of contract.