Ford Fiesta
Marketed over seven generations by Ford since 1976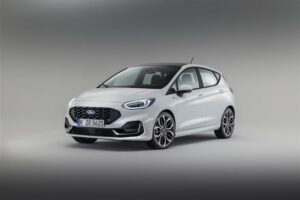 The Ford Fiesta is one of the best-selling cars in the UK for many reasons – it's great value, fun to drive and efficient too. Ford has sold over 16 million Fiestas since 1976, making it one of the best selling Ford marques ever. Many ask the question 'where is the Ford Fiesta made?'. Well over the years, just about everywhere from the United Kingdom, Germany, Brazil, Spain, Venezuela, Argentina, Mexico, Taiwan, China, India, Thailand, and South Africa!
The first Fiesta was on display at the Le Mans 24 Hour Race in June 1976, and the car went on sale in France and Germany in September 1976; to the frustration of dealerships in the UK, the right-hand drive versions only began to appear in January 1977.
What is the best ford fiesta to buy? There's plenty of choice within the Fiesta range, starting with a new Trend spec, Style, then ascends through Titanium, Titanium X, ST-Line, state of the art ST-Line X and high-end Vignale. How much is a Ford Fiesta? Prices range from £16,000 to £22,000.
Current popular models are Ford Fiesta Zetec 1.1, Ford Fiesta Trend 3 door, Ford Fiesta 1.5 TDCi 3 door. But it's higher up the model range where things get interesting, like with the sporty Ford Fiesta ST-Line Edition 5 door which won Top Gear's Hot Hatch and Car of the Year for 2018.
There is a rugged Active version and a Vignale Edition which focuses on luxury – it's all chrome trim, leather upholstery and comfort here. The Fiesta delivers on all fronts: a small, economical car that's comfortable, well built and has all the latest technology.
Performance and drive
ST models are known for being fun, but even the most basic Fiestas are fantastic to drive, with good grip, great control weights, and lots of composure on twisty roads. The six-speed manual gearbox is excellent. It has a slick shift action, but it's also nice and easy to use in town. Comfortable seats and suspension mean it's reasonably relaxing when you want it to be.
17-inch alloys are standard. While a 197bhp version of the EcoBoost three-cylinder engine is fitted in the ST, the regular line-up still offers an excellent range of petrol engines with varying power outputs and the option of mild-hybrid electrical assistance.
You'll get the mild-hybrid tech on the 123bhp and 153bhp versions of the turbocharged three-cylinder 1.0-litre petrol engine, reaching 0-62mph in 9 seconds. The same engine is available with 99bhp, while the 123bhp engine is now available with mild-hybrid assistance when specified with the seven-speed automatic gearbox. The entry-level Fiesta Trend model now uses the 99bhp version of the 1.0-litre instead of the old-fashioned, non-turbocharged 74bhp 1.1-litre engine.
No plug-in hybrid or electric version as of mid-2021. Diesel editions were discontinued in 2020. Ford Fiesta comes with tyres of size 195/60 R15 requiring a tyre pressure of 32 PSI for more comfort and less mileage, or 36 PSI for a firmer, more fuel economic ride.
No matter which engine you choose, the Fiesta is a pleasure to drive, either on a long motorway trip or a challenging country road.
Interior
The Fiesta's interior design with soft-touch plastics and good quality materials, make cleanly styled dashboards from high-quality, tactile materials, making everything feel superbly put together. Entry-level get basics such as air conditioning and electric front windows. Ford's 8-inch SYNC3 touchscreen infotainment screen is easy to use, looks good and comes with Android Auto and Apple CarPlay.
New models feature lane-departure warning and assistance, a sign of Ford's big push on safety. Automatic emergency braking with pedestrian detection and active parking assistance that can apply the brakes if needs be can be added, plus traffic-sign recognition, blind-spot monitoring as well and auto-dipping headlights. The Titanium has cruise control, automatic lights, wipers and climate control.
The Fiesta is spacious enough in the front, and the five-door has good access. In newer models, Ford's designers have increased space for passengers in the back and at the same time, subtle styling details distinguish trim levels from one another, adding to their allure. Length ranges from 4,040 to 4,068 mm.
For luxury seekers, there's the Fiesta Vignale with optional 18-inch alloy wheels and, inside, hexagonally quilted leather upholstery. The Fiesta Active blends SUV elements – a raised ride height, body protection and roof rails – with low supermini running costs and easy driving.
About Coast2Coast
Since starting out in 1999, we have built an enviable reputation for being able to provide the best deals on the web for your new car, and this applies to purchase or lease orders. We
have full knowledge of all the brands we offer and can advise you on specific issues concerning the vehicle of your choice. We welcome both private and business customers.
Over the years we have gathered hundreds of dealer contacts enabling us to offer most brands of cars. We have thousands of satisfied customers and get a lot of referrals and repeat business which is very satisfying. We have saved our customers collectively hundreds of thousands and vow to save future customers as much money as possible going forward.
We appreciate how important it is to make the right decision when purchasing a new car, so we work closely with clients to meet their needs. We get to know who they are and what kind of deals they are looking for. This enables us to provide tailored offers that fit their budgets and their needs.
Our team is dedicated to working with you. So, if your needs change, your budgets change, or you feel a deal isn't quite right then we will begin the search again. As a car broker, it is our job to work with you to help you find deals that simply work.
What Coast2Coast can do for you
Buy a new or used Ford Fiesta at a price you'll love. Coast2Coast have a network of UK franchised dealers who can offer customers special Ford Fiesta Deals UK, with full manufacturers warranties for your peace of mind.
Once the order has been placed with the franchised dealer, and a deposit contribution agreed, you will have full contact with that dealer and payment for the vehicle will be made direct to them. We then receive a commission direct from them.
If you are looking for Ford Fiesta leasing deals, look no further. Here at Coast2Coast, we offer various car leasing deals, whether you are looking for a business or personal lease deals, there will be vehicles and offers available to you that will help you find the best deals to fit your requirements. Some contracts may be subject to excess mileage conditions.
Our dealers offer a full range of finance offers for UK residents including Personal Contract Purchase with an optional final payment at the end of the contract, Personal Contract Hire, Hire Purchase and more. Throughout the transaction, we are available to provide help and advice where needed on your personal offers. Note that tear charges may apply depending on a contract and that we do acts as a credit broker.
Credit brokers will have a registered office registered in England and authorised and regulated to provide financial services under regulation by the Financial Conduct Authority, terms and conditions apply, and all offers will be subject to status. Monthly payments will need to be made on all contracts for the length of the agreement, and the vehicle may need to be returned on final payment depending on the type of contract.