Ford Focus
Sporty road manners with comfort, safety and style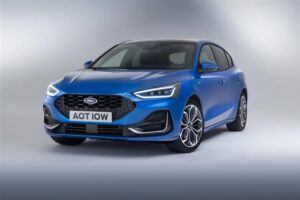 In 1998 the original Ford Focus was launched, rapidly establishing itself as the family hatchback for keen drivers. It had the combination of Ford's reputation for building cars that are good value for money and generally reliable, plus being well-equipped and practical, so it soon became a firm fixture in the UK best-sellers list.
A question often asked, is where is the Ford Focus made? Saarlouis, Germany was the lead plant for Ford Focus production in Europe since the first model was launched in 1998. Focus manufacturing then expanded in mid-2011 when Ford's plant in St. Petersburg, Russia, began building both four-door and five-door models. Production in the Asia Pacific region began in 2012, when new Ford plants opened in Chongqing, China and Rayong, Thailand.
Both the Focus and its predecessor, the Escort, have has phenomenal sales for Ford all around the world. The Focus arrived at exactly the right time for Ford; a sharply styled all-new family hatchback that changed everything with a refreshing design, improved packaging and a clean-sheet engineering approach that proved even family cars could be great fun to drive.
The fourth-generation Focus is nowhere, there's no three-door version but five-door hatchback and estate versions are available, while an off-road-style Active version is to compete with other SUVs on the market. How much is a Ford Focus? Prices range from around £18,975 new.
There is a wide choice of petrol engines, starting with a 1.6-litre. Then there is a 1.0-litre three-cylinder Ecoboost that comes in either 99bhp or 123bhp. There are also two 1.5-litre four-cylinder Ecoboost engines to choose from too. The diesel options are the 1.5 105 Econetic, a 118bhp 1.5, and the 2.0 TDCi 150.
There have also been high-performance ST models offered, with a 182bhp 2.0-litre diesel or 247bhp 2.0 turbocharged petrol engine, both with manual gearboxes, and a super-sporting and much-lauded four-wheel-drive 345bhp 2.3-litre RS version.
The length of a Focus ranges from 4,378 to 4,672 mm. The Ford Focus has a kerb weight of 1,280 to 1,585 kg. The Focus is both wider and longer than the Fiesta, they are both about the same height.
Performance and drive
The introduction of a new platform, new engine and new adaptive dampers are crucial contributors to the Focus. Steering is a particular highlight, with a great level of accuracy and response. It handles and grips well, with a hint of fun, and it's comfortable and composed over urban ruts and potholes.
A six-speed manual gearbox is a standard across the range. If you'd rather have an automatic, you can choose an eight-speed if you opt for the 124bhp 1.0-litre EcoBoost petrol engine or either of the diesel EcoBlue.
So, which is the best Ford Focus model? Polls indicate that the Ford Focus Titanium is the best all-around Ford Focus. Ford Focus ST-Line is the best Focus for sporty looks and good insurance premiums, and the Ford Focus Active is the best low-cost off-road styling.
Interior
Nearly every Focus features air conditioning, alloy wheels, Bluetooth and a USB port, with the most popular trim, Zetec, offering a DAB radio and a heated windscreen. Taking pride in the dashboard is a central display screen – full colour and eight inches in size on all models. It recognises smartphone-style 'pinch and swipe' gestures and the screen is particularly responsive, with clear, crisp, attractive graphics.
The space upfront is good. Depending on the trim level, a combination of smart metallic, carbon-effect or wood-grain, and soft-touch plastics are used, with harder, more durable materials used in out-of-the-way locations.
What Coast2Coast can do for you
Since starting out in 1999, we have built an enviable reputation for introducing customers to the best Ford Focus deals on the web, and this applies to purchase or lease orders. We have full knowledge of all the brands we offer and can advise you on specific issues concerning the vehicle of your choice. We welcome both private and business customers.
Buy a new or used Ford Focus at a price you'll love. Coast2Coast have a network of UK franchised dealers who can offer customers special Ford Focus car deals, with full manufacturers warranties for your peace of mind.
Once the order has been placed with the franchised dealer, and a deposit contribution agreed, you will have full contact with that dealer and payment for the vehicle will be made direct to them. We then receive a commission direct from them.
If you are looking for Ford Focus leasing deals, look no further. Here at Coast2Coast, we offer various car leasing deals, whether you are looking for a business or personal lease deals, there will be vehicles and offers available to you that will help you find the best deals to fit your requirements. Some contracts may be subject to excess mileage conditions.
Our dealers offer a full range of finance offers for UK residents including Personal Contract Purchase with an optional final payment at the end of the contract, Personal Contract Hire, Hire Purchase and more. Throughout the transaction, we are available to provide help and advice where needed on your personal offers. Note that tear charges may apply depending on a contract and that we do acts as a credit broker.
Credit brokers will have an office registered in England and will be authorised and regulated to provide financial services under regulation by the Financial Conduct Authority, terms and conditions apply on consumer credit, and all offers will be subject to status. Monthly payments will need to be made on all contracts for the length of the agreement, and the vehicle may need to be returned on final payment depending on the type of contract. Images may be for illustrative purposes only.