Ford Kuga
Beautifully designed, remarkably efficient, effortlessly capable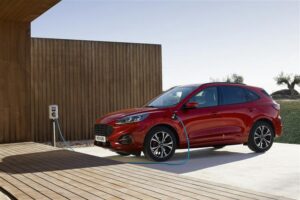 As part of Ford's commitment to electrifying their range, the Kuga is available in three electrified vehicle options, the Ford Kuga EcoBlue Mild Hybrid, the Kuga Full Hybrid or the Kuga Plug-in Hybrid.
Ford's advanced hybrid technology is designed to deliver a cleaner, quieter, more sophisticated approach to SUV driving. Equally as sophisticated, the Kuga EcoBlue diesel (FWD and AWD) and EcoBoost petrol offer advanced non-hybrid engine options. The choice is yours.
The Ford Kuga is a compact crossover SUV manufactured by Ford since 2008 and is now in its third generation. Is the Ford Kuga 4 wheel drive? Both front-wheel drive and four-wheel drive are offered. Where is the Ford Kuga made? When the Kuga went on sale, it was built at Ford's plant in Saarlouis, Germany.
So, how much is a Ford Kuga? Prices start from £26,145 new. It has 5 seats, a kerb weight of 1,564 to 1,844kg and a boot capacity of 411 to 475 L or 1,481 to 1,534 L including the back seat area.
The first-generation Ford Kuga was a stylish car that was generally well-received. The second-generation car was designed to be sold in North America too, and was, therefore, a bigger more upmarket version against a whole new class of larger SUVs and 4x4s than the old model. It ran from 2013 until it was replaced by an all-new model in 2020.
Early Kuga's have a turbocharged 1.6-litre petrol engine, this was replaced in 2016 by a smaller 1.5-litre. There is a 1.5 TDCi diesel engine too. If you regularly drive with a full car, the 2.0-litre 150 is especially good. There's the choice of a six-speed manual or dual-clutch automatic gearboxes.
New models include two regular petrol engines that are also available – the 118bhp 1.5 Ecoboost 120 and 148bhp 1.5 Ecoboost 150. The 1.5 Ecoblue 120 and 2.0 Ecoblue 150 types of diesel mirrors the power of the two petrols, plus there's a 187bhp Ecoblue 190 diesel.
The 2.5 Duratec 225PS PHEV plug-in hybrid is great for low emissions, with a 0-60mph dash in 8.6sec, courtesy of the 222bhp that's produced when electric and petrol power work together. There is also the regular 2.5 FHEV hybrid which uses a similar engine and electric motor set-up, just without the big battery pack for extended electric-only driving.
Performance and drive
The Kuga has great ride and handling, both of which are accomplished to the level where it feels more like a hatchback than an SUV, with good agility and body control and neat absorption of bigger road irregularities.
The Kuga is a tall car, the steering is very quick which makes it feel eager to turn into corners and the brake pedal is consistent. Out of a large number of SUVs out there, the Kuga PHEV is one of the best to drive.
Interior
Nearly every Kuga features air conditioning, alloy wheels, Bluetooth and a USB port, with the most popular trim, some offer a DAB radio and a heated windscreen. Apple CarPlay/Android Auto smartphone mirroring are included with all Kugas, allowing you to operate certain phone apps through the car's touchscreen, plus you get a wireless charging pad for compatible phones.
Seats are supportive with plenty of adjustment, including lumbar support on all trims, as well as generous levels of a steering wheel and reach movement. The high rooflines give good headroom, legroom is generous, space in the back of the Kuga is generous too and the boot size is good.
What Coast2Coast can do for you
Since starting out in 1999, we have built an enviable reputation for introducing customers to the best Ford Kuga deals on the web, and this applies to purchase or lease orders. We have full knowledge of all the brands we offer and can advise you on specific issues concerning the vehicle of your choice. We welcome both private and business customers.
We have both new and used cars for sale at a price you'll love. Coast2Coast have a network of UK franchised dealers who can offer customers special Ford Kuga deals, with full manufacturers warranties for your peace of mind.
Once the order has been placed with the franchised dealer, and a deposit contribution agreed, you will have full contact with that dealer and payment for the vehicle will be made direct to them. We then receive a commission direct from them.
If you are looking for Ford Kuga finance deals? Look no further. Here at Coast2Coast, we offer various car leasing deals, whether you are looking for a business or personal lease deals, there will be vehicles and offers available to you that will help you find the best deals to fit your requirements. Some contracts may be subject to excess mileage conditions.
Our dealers offer a full range of finance offers for UK residents including Personal Contract Purchase with an optional final payment at the end of the contract, Personal Contract Hire, Hire Purchase and more. Throughout the transaction, we are available to provide help and advice where needed on your personal offers. Note that tear charges may apply depending on contract and that we do not act as a credit broker by credit broking.
Credit brokers will have a registered office in England and will be authorised and regulated to provide financial services under regulation by the Financial Conduct Authority, terms and conditions apply on consumer credit, and all offers will be subject to status. Monthly payments will need to be made on all contracts for the length of the agreement, and the vehicle may need to be returned on final payment depending on the type of contract. Images may be for illustrative purposes only.