Ford Puma
A range of innovative features designed to improve your driving pleasure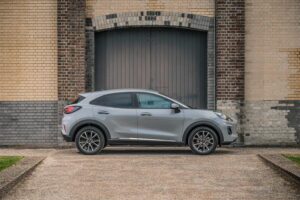 The Ford Puma – not only great to look at but a great driving experience and clever too. Selectable Drive Modes and Ford Co-Pilot360 mean an impressive set of assistance technologies working together to help manage acceleration, braking, and even steering. Plus, Adaptive Cruise Control, Pre-Collision Assist, and Evasive Steering Assist, all keep a watchful eye on the road ahead, alerting you to potential hazards. And of course, hybrid technology too.
Ford Puma is a nameplate used by two different Ford vehicles. The name was first used from 1997 to 2001 on a subcompact sports car. The revival of the nameplate was announced in 2019, and its new usage began on a new subcompact crossover SUV model.
The Puma is made in Craiova, Romania. When it was first launched at the end of 2019, WhatCar were so impressed they had no hesitation in making it their overall Car of the Year 2020. They said it excelled in all the areas that were important to buyers in its class, as well as offering a mix of fun and frugality not previously seen in a small SUV.
Buyers liked the Ford Puma too, and in its first year on sale, it was the ninth best-selling car in the UK, which means there are now plenty of them to hunt down on the used car market. There are about 9,000 Ford Pumas are left in the UK as of 2020.
Four trims are available, Titanium, ST-Line, ST-Line X and ST-Line X Vignale. Engines include Ford's 1.0-litre Ecoboost petrol engine three-cylinder engine, available with either 123bhp or 153bhp. Mild hybrid assistance is an option for the 123bhp unit and is standard on the more powerful version. The Puma ST model has a 197bhp 1.5-litre turbo three-cylinder engine. All Pumas are paired with a six-speed manual gearbox, are front-wheel drive, with a seven-speed automatic standard on the non-hybrid version of the Ecoboost hybrid 125.
How big is a Ford Puma? Dimensions are 4,186-4,226 mm L x 1,805 mm W x 1,533-1,554 mm H. Ford has announced that the price of a new Puma crossover will start from £20,845, with prices climbing to £27,345 for the range-topping models. Are Ford Puma's good? Euro NCAP awarded the Ford Puma a five-star safety rating.
Performance and drive
You will enjoy driving the Puma. It is super nimble by small SUV standards and you'll notice agility whether you're around town or flying down your favourite country lane. The ST-Line model sports suspension really helps to keep the body more upright when cornering. The steering gives you a great connection to the front wheels. The Puma's precise gearshift, clutch pedal and progressive brakes make it easy to drive smoothly.
Interior
The Ford Puma cabin is in a stylish design, with leather-trimmed refinement. Front seats include lumbar support and massage function for added levels of comfort. And bright-finish interior elevates the feeling of sophisticated style. While a host of clever features and innovative technologies puts you in complete control, including daytime running lights.
From the 12.3″ digital instrument display cluster, and advanced 8″ touchscreen display, to a host of additional services and features available through your SYNC 3 infotainment system and FordPass Connect embedded modem – every element has been designed to make your drive as enjoyable as possible.
What Coast2Coast can do for you
Since starting out in 1999, we have built an enviable reputation for introducing customers to the best Ford Puma best deals on the web, and this applies to purchase or lease orders. We have full knowledge of all the brands we offer and can advise you on specific issues concerning the vehicle of your choice. We welcome both private and business customers.
Buy a new or used Ford Puma at a price you'll love. Coast2Coast have a network of UK franchised dealers who can offer customers special Ford Puma deals, with full manufacturers warranties for your peace of mind.
Once the order has been placed with the franchised dealer, and a deposit contribution agreed, you will have full contact with that dealer and payment for the vehicle will be made direct to them. We then receive a commission direct from them.
If you are looking for Ford Puma leasing deals, look no further. Here at Coast2Coast, we offer various car leasing deals, whether you are looking for a business or personal lease deals, there will be vehicles and offers available to you that will help you find the best deals to fit your requirements. Some contracts may be subject to excess mileage conditions.
Our dealers offer a full range of finance offers for UK residents including Personal Contract Purchase with an optional final payment at the end of the contract, Personal Contract Hire, Hire
Purchase and more. Throughout the transaction, we are available to provide help and advice where needed on your personal offers. Note that tear charges may apply depending on a contract and that we do not act as a credit broker.
Credit brokers will have an office registered in England and will be authorised and regulated by the Financial Conduct Authority, terms and conditions apply on consumer credit, and all offers will be subject to status. Monthly payments will need to be made on all contracts for the length of the agreement, and the vehicle may need to be returned on final payment depending on the type of contract. Images may be for illustrative purposes only.