Jaguar I-Pace
INTRODUCING JAGUAR'S FIRST ALL-ELECTRIC PERFORMANCE SUV
The I-Pace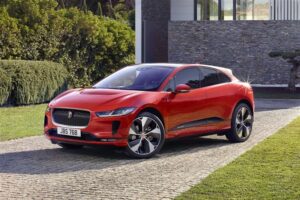 I-Pace is a Jaguar above all else  a true driver's car. Its electric motors and near-perfect weight distribution deliver 696Nm of instant torque for sports car agility.
Thrilling Jaguar power and dynamics with zero tailpipe emissions everything you would expect from an all-electric performance SUV.
The Jaguar I-Pace is a battery-electric crossover SUV produced by Jaguar Land Rover (JLR), under their Jaguar marque. It is not a Hybrid, this Jaguar is all-electric. The I-Pace is the first electric SUV built by a premium European contract manufacturer in Magna Steyr in Graz, Austria. The production version of the I-Pace was revealed in Graz on 1 March 2018.
In its first year, the I-Pace became one of the most highly decorated production cars ever, winning 62 international awards. In March 2019, the I-Pace won the European Car of the Year award, the first Jaguar to win in the 50-year history of the award. In April 2019, the I-Pace became the 2019 World Car of the Year, and by also winning Best Design and Best Green Car awards, it became the first car to ever sweep three of the six categories.
Instant torque and All Wheel Drive traction give I-Pace the acceleration of a sports car. The 400PS powertrain reaches 60mph (100km/h) in 4.5 (4.8) seconds. Prices start at around £64,000.
I-Pace interior
I-Pace seamlessly integrates technology and abundant space. The interior design is clean and uncluttered, with tactile features and sweeping lines. The nature of the electric power train offers additional space, providing more freedom to maximise the comfort provided by I-Pace's interior.
There is definitely a luxurious atmosphere throughout the interior of beautiful, handcrafted touches. Rich, solid finishings surround you and fine twin-needle stitching adds tailored sophistication. At night, crisp white illumination accentuates the exquisite details.
Its screens are all bright and responsive to use, with easily navigable menus. All versions of the I-Pace come with a touchscreen infotainment system or pro infotainment system with Apple CarPlay/Android Auto smartphone integration. It's one of the best touchscreens in the class thanks to a straightforward menu layout, crisp graphics and highly customisable home screen, within control subscriptions available.
So, if you're looking for a practical electric family car that's packed full of tech and fast enough to put a big grin on your face then the Jaguar I-Pace deserves your full attention.
I-Pace driving
Even with four passengers onboard and a boot full of luggage, the Jaguar I-Pace drives more like a sports car than a high-riding SUV. How fast is the Jaguar I-pace? Its two electric motors drive the front and rear wheels kicking out 400hp, helping it accelerate from 0-60mph in a scorching 4.5 seconds.
Plus, the Jaguar's heavy batteries are tucked neatly under the floor which stops its tall body from leaning excessively in tight corners. In fact, the I-Pace is genuinely good fun to drive, with well-weighted steering and an eagerness to change direction.
Jaguar's semi-autonomous autopilot does come as standard and includes steering and distance control, and autonomous braking.
I-Pace engines
So, what is the range of the Jaguar I-Pace? Jaguar claims a range of 298 miles between charges. As things stand with our charging infrastructure, spending 60 minutes using a public 50KW fast-charger is enough for a 168-mile range, while a full charge takes around 13 hours from a 7KW household wall charger and cost you roughly £13.
Jaguar I-Pace 90kWh battery is designed for longevity and supports prolonged periods of sustained maximum power. The battery's position within the wheelbase provides the vehicle with a low centre of gravity, naturally benefiting vehicle dynamics.
I-Pace is propelled by two permanent magnet synchronous electric motors integrated with the front and rear axles. These motors provide 400PS and 696Nm of useable instant torque.
Jaguar I-Pace does not require a conventional transmission. Instead, it is all about simplicity. JaguarDrive instantly delivers sustainable acceleration from 0-12,000rpm with no lag and no gearshift interruptions.
I-Pace Suspension and ride comfort
The standard suspension on the Jaguar I-Pace is good enough to mean you don't have to splash out on the optional air set-up. It smothers the harshness of most bumps, whether you're driving around town or rushing along an A-road.
I-Pace Handling
You'll feel the weight of the Jaguar I-Pace shifting onto its outside wheels when you turn into a corner at speed, push harder and you'll feel the car gently run wide at the front in a safe, secure manner.
The I-Pace is decent fun to drive for an electric vehicle and pretty agile for an SUV, with a low centre of gravity and precise steering that has just the right amount of weight.
One trump card the four-wheel-drive I-Pace holds over its rivals is that it's surprisingly capable off-road. That's thanks to clever hill climbing and descent systems borrowed from Jaguar's sister company Land Rover, and the fact that the height of the optional air suspension can be adjusted.
I-Pace Noise and vibration
As with all-electric cars, regenerative braking on the Jaguar I-Pace captures some of the energy normally lost when you lift off the accelerator pedal.
If you turn it to its maximum setting, the effect is so strong that you'll rarely have to touch the brake pedal at low speeds.
What Coast2Coast can do for you
Coast2Coast have a network of UK franchised dealers who offer our customers cars, with full manufacturers warranties, at discounted prices. The full discount is passed onto you. Once the order has been placed with the dealer you have full contact with that dealer and payment for the vehicle is made direct to them.
Let us help you find Jaguar I-Pace deals the UK. Let us help you find perfect Jaguar power, your dream Jaguar, brand new or part-exchange. Here at Coast2Coast, whether you are looking for business offers or personal lease deals, there will be vehicles and offers available to you that will help you find the best lease to fit your requirements.
Our dealers offer a full range of car finance offers including Personal Contract Purchase with an optional final payment at the end of the contract, Personal Contract Hire, Hire Purchase and more. Throughout the transaction, we are available to provide help and advice where needed on your personal offers.
Credit brokers will be registered in England and authorised and regulated by the Financial Conduct Authority, terms and conditions will apply, and all offers will be subject to status. Monthly payments will need to be made on all contracts for the length of the agreement, and the vehicle may need to be returned on final payment depending on the type of contract