Land Rover Defender
Capable of great things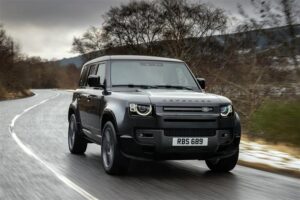 The new model Defender represents 70 years of innovation and improvement; honouring the vehicle's history for rugged solidity while thoroughly remaining a Defender for the 21st century.
The Defender first came to life in 1990 because Land Rover wanted to distinguish their original workhorse model from their new model, the Land Rover Discovery, which came out in 1989. And it hasn't stopped improving since.
Available in Diesel, Petrol & PHEV with both a distinctive and instantly recognisable design. A unique collection of personalisation options are available, and of course all-terrain capability with outstanding off-road geometry.
The Defender meets requirements to be classified as a light goods vehicle for VAT purposes, should it be for commercial use. 1948 to 2016 Defenders are all manual, after these generations Land Rover is choosing to offer automatic transmission only.
The four-door comes with five seats as standard, but you can equip an extra jump seat in the first row or add a third row to create room for up to seven. The second-row seats slide and recline as needed.
It has a kerb weight of 2261kg to 2463kg, a height of 1967mm to 1974mm.
Defenders are not fitted with airbags, or seat belts in some older models, newer models have air conditioning.
In 2019, Jaguar Land Rover announced it would build its next-generation Defenders in Slovakia. If a Land Rover vehicle has been well taken care of and maintained, it can be an excellent purchase at 100,000 miles.
Modern Land Rover products (Freelanders, Range Rovers Discovery 3 and the later Defenders) do not have viscous couplings or centre locking differentials. Instead, they rely on computer electronics to sense wheel slip and counteract this by applying the brakes to the wheel that is slipping. For the Best UK prices on Land Rover Defenders simply choose your desired spec on our online form and see how much you could save.