Land Rover Discovery
The most versatile seven-seat SUV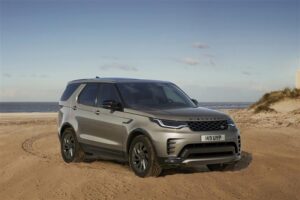 Land Rover Discovery, is a series of medium to large premium SUVs, produced in Solihull under the Land Rover marque, from the British manufacturer Jaguar Land Rover.
Featuring a spacious hatchback body, high driving position and raised ground clearance, Land Rover Sports Utility Vehicles are a fantastic choice for families wanting increased levels of practicality and versatility on every journey. Combine these qualities with the expertly crafted luxury, all-terrain capability and design innovation evident in every 5 doors, 7-seater, it will be the only vehicle you'll ever need.
Discovery 5 is the latest introduced from 2017. Unlike the previous two generations, it benefits from a unitised body structure making it lighter – the use of aluminium chassis and body panels gives a weight loss of up to 480 kg over its predecessor. This weight loss combined with a new aerodynamic design achieves a fuel efficiency improvement. 5-doors, a height of 1,888mm, a width of 2,000mm, length of 4,970mm and a kerb weight of 2,193, 2,230kg.
Launched in 2009, most of the Discovery 4 changes were mechanical, improvements to engines and gearboxes, brake and suspension refinements, but also included major interior upgrades with a more luxurious and contemporary interior with greater luxury and technology levels available. 5-doors, a height of 1,970mm, the width of 2,022mm, length of 4,838mm and a kerb weight of 2,396, 2,583kg.
The Discovery 3 was the first all-original design. It was in production from 2004 to 2009. 5-door, a height of 1,880mm 2005' 2006 / 1,890mm 2007' 2009, width of 1,920mm, length of 4,850mm and a kerb weight of 2,419' 2,461kg.
So, how deep can the Land Rover Discover go in the water?
The Land Rover Discovery can manage anywhere between up to 20 inches and 30 inches of water.
Some models have InControl Touch Pro systems with new features including a touchscreen interface. For the Best UK prices on Land Rover Discovery simply choose your desired spec on our online form and see how much you could save.