Land Rover Range Rover Evoque
A fine balance of luxury and technology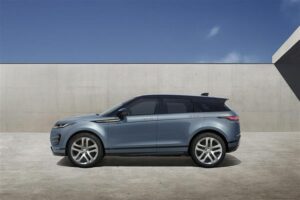 Outstanding proportions deliver a dramatic silhouette and stance, enhancing Range Rover Evoque's distinctive appearance.
On and off-road handling, combined with its all-weather capability, guarantees that this compact SUV delivers a confident and assured drive, no matter the conditions.
The Range Rover Evoque is a series of luxury crossover SUVs produced by the British manufacturer Jaguar Land Rover. The first generation Evoque was produced from July 2011 until 2018 in three and five door versions, with both two-wheel and four-wheel drive. The second-generation car started production in 2018 by Range Rover. The Range Rover Evoque is now built by Land Rover at the firm's Halewood factory in Liverpool. This facility also produces the Land Rover Discovery Sport SUV.
The newest model is the 2021 Range Rover Evoque and is available now.
In 2010 Range Rover unveiled its new 'compact' Range Rover and revealed the interior is to be designed by Victoria Beckham, in a bid to attract younger, fashion-conscious buyers.
Along with stunning looks and excellent off-roading capabilities, Land Rover Range Rover Evoque offers advanced safety features including six airbags.
It's the Range Rover that's full of creature comforts, models include a wide range of infotainment including Apple CarPlay, and of course SatNav.
It can self-park, making even tight space easy to manoeuvre. The lightest model only weighs 1600kg. It's the first Land Rover to use electronic power steering.
It's the first SUV/Crossover with adjustable suspension to stiffen or soften the suspension. It can drive through half a meter of water with ease and go up steep inclines, or descent the toughest terrain without breaking a sweat. For Best UK prices on Land Rover Discovery simply choose your desired spec on our online form and see how much you could save.