Land Rover Range Rover Sport
The most dynamic Range Rover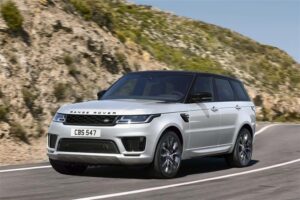 With sportier design cues and a powerful, muscular stance, Range Rover Sport is designed for impact. Cleaner and more dynamic, there's a contemporary feel everywhere you look – from the Range Rover Sport grille, redesigned bonnet vents to the refined, yet sporty wheel options.
The Range Rover Sport is a British luxury mid-size SUV made by Land Rover. The first generation started production in 2005, being replaced by the second generation Sport in 2013, with a pre-facelift in 2015 and a facelift in 2018.
The new Range Rover Sport continues in the design direction that produced the Evoque styling and that of the full-size 2013 Range Rover. It is 100mm longer at 4,851mm long; and 181kg lighter, weighing in at 2,144kg.
Unlike the previous generation that uses an integrated body frame chassis, the Range Rover Sport utilises an all-aluminium monocoque body, just like the Range Rover. There is no low range, but it does compensate for that with its terrain adjustment scroll-wheel on the middle console.
Range Rover models generally tend to be smaller than their Land Rover counterparts. People often ask are Land Rover and Range Rover the same; they are not, but the Land Rover vs. Range Rover difference is simple:
Land Rover is the brand of the vehicle, with seven different models in its line-up.
A Range Rover is a specific Land Rover model, so it's full name is the Land Rover Range Rover, just like the full name of the Mustang is the Ford Mustang.
The Range Rover Sport is full of high-tech features and as enjoyable to drive on the road as it is capable of it.
Running a used Land Rover can be an expensive business, but there are many guides on how to help you budget for routine maintenance costs.
For the Best UK prices on Land Rover Discovery simply choose your desired spec on our online form and see how much you could save.