Land Rover Range Rover Velar
Revolutionary looks and refinement taken to new heights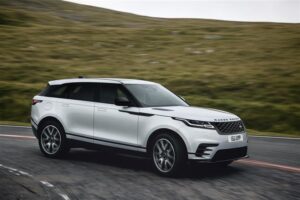 Simplicity exudes confidence and individuality. Range Rover Velar leads the way in progressive design. Clean, elegant and distinctive, the vehicle has a striking, contemporary presence. Wherever you go in Range Rover Velar, eyes will follow.
The Range Rover Velar is a compact luxury crossover SUV produced by British automotive company Jaguar Land Rover under their Land Rover marque in their Solihull factory. The fourth model in the Range Rover line, the Velar was released in the summer of 2017.
Performance is the difference between the Velar and the Sport.
The Range Rover Sport is a heavier, more powerful and more capable off-road model.
The lighter Velar still packs a punch with its smaller, more efficient engines and more suited on-road capability. The new Velar comes with a choice of three engines.
The big news for the 2021 Range Rover Velar is the announcement of a new hybrid model. This P400e comes with the same hybrid system as the recently revealed Land Rover Defender plug-in hybrid and combines a 300hp 2.0-litre four-cylinder petrol engine with a 143hp electric motor to produce a total of 404hp.
The Range Rover Velar ushers in a new design for Land Rover that is influenced the Evoque and most recently was used in the Range Rover Sport. It has 5 doors and 5 seats, over two rows. It has a kerb weight of 1,804, 1,959kg.
The new design language features smoother lines on the body, and emphasises sportiness and on-road ability, but more important is the new interior design language that begins with the Velar, which will later spread to other Range Rover models. For the Best UK prices on Land Rover Discovery simply choose your desired spec on our online form and see how much you could save.