Mazda CX-30
Freedom to go anywhere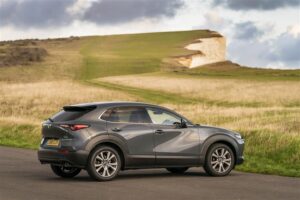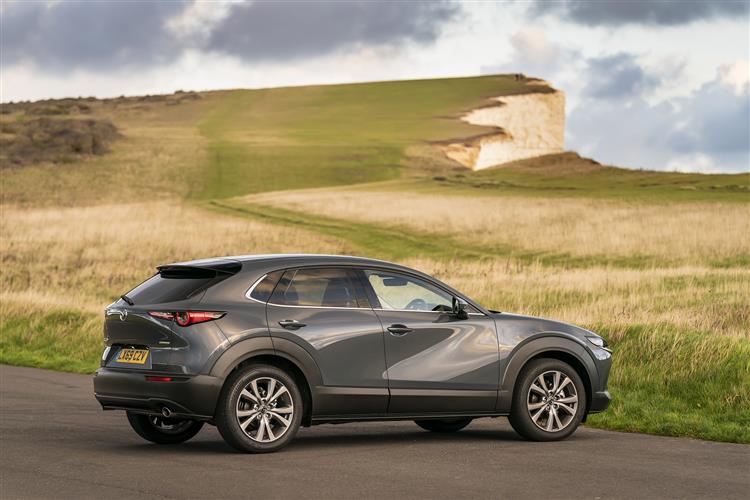 Inside and out the Mazda CX-30 is simply beautiful – from the innovative technology underneath, flowing curves of the body to the exquisite craftsmanship of the interior, all combine to complement and enhance every journey.
All-new Mazda CX-30 not only turns heads with its design purity and sets new standards with its premium interior and stunning exterior, but the innovation of the all-new Mazda CX-30 goes deeper – at its heart lies the M Hybrid system. By recycling energy during deceleration, Mazda's intelligent mild-hybrid system powers an electric motor that assists the engine by minimising fuel consumption, lowering emissions and increasing fuel economy.
The Skyactiv X 2021 engine technology burns petrol more efficiently thanks to Spark Controlled Compression Ignition (SPCCI). It makes more power but produces fewer emissions and uses less fuel than a regular petrol engine for an even better drive. When is the Mazda CX-30 coming to the UK? The new Mazda CX-30 SUV is available to order in the UK right now. Prices start from £22,895 for the entry-level SkyActiv-G powered model, climbing to £33,495 for the top of the range SkyActiv-X. The Mazda CX-30 is a subcompact crossover SUV, slotting into the brand's range between the CX-3 and the CX-5, and borrows styling from Mazda 3 hatchback. When will Mazda CX30 be available? The first deliveries arrived in January 2020. The 2.5 turbo model was released internationally in February 2021.
The CX-30 received positive reviews upon its release. Top Gear gave it a score of 7 out of 10, with the verdict being: "Good car, the Mazda CX-30. Handles well, looks smart and has a lovely interior." Does the Mazda CX30 replace the CX3? The 2020 Mazda CX-30 is an all-new model, whereas the Mazda CX-3 has been on sale since 2016. While both are subcompact SUVs, the CX-30 is much bigger than the CX-3. The CX-30 is based on the Mazda3 but does not replace it. Mazda CX-30 and Seat Ateca are often compared with their matching SUV format.
There are five trim levels available. The base-model SE-L comes with 16-inch alloy wheels as standard, automatic LED headlamps, electrically adjustable heated door mirrors, LED taillights, rear parking sensors and rain-sensing wipers. The entry-level CX-30 also has radar-guided cruise control, lane-keeping assist and a blind-spot monitoring system. How big is a Mazda CX30? Dimensions: L4,395mm x W1,795mm x H1,540mm.
Performance and drive
The CX-30 is a coupe with the bold toughness of an SUV. Small enough on the outside to zip around town, but big enough on the inside to get away from it all. A car with dynamic performance, an exhilarating ride and superior comfort and safety.
Interior
You can't fake quality and craftsmanship. The Mazda CX-30 cabin has an air of stature and grace. Premium materials have been integrated with a painstaking fit and finish to create an interior ambience of superior quality and genuine refinement.
The Mazda CX-30's driver's seat has its own ergonomic design team, studying the perfect spine shape to aid fatigue relief on longer journeys. The interior design is the perfect illustration of how to successfully create a clean, beautiful and decluttered premium cabin.
What Coast2Coast can do for you
Buy a new or used CX-30 Mazda at a price you'll love from us. Coast2Coast have a network of UK franchised dealers who can offer customers special CX30 Mazda UK deals, with full manufacturers warranties for your peace of mind.
Our team is dedicated to working with you. So, if your needs change, your budgets change, or you feel a deal isn't quite right then we will begin the search again. As a car broker, it is our job to work with you to help you find deals that simply work.
Once the order has been placed with the franchised dealer, and a deposit contribution agreed, you will have full contact with that dealer and payment for the vehicle will be made direct to them. We then receive a commission direct from them.
If you are looking for Mazda leasing deals, look no further. Here at Coast2Coast, we offer various car leasing deals, whether you are looking for a business or personal lease deals, there will be vehicles and offers available to you that will help you find the best deals to fit your requirements. Some contracts may be subject to excess mileage conditions.
Our dealers offer a full range of finance offers including Personal Contract Purchase with an optional final payment at the end of the contract, Personal Contract Hire, Hire Purchase and more. Throughout the transaction, we are available to provide help and advice where needed on your personal offers.
Credit brokers will have a registered office registered in England and will be authorised and regulated by the Financial Conduct Authority. Terms and conditions will apply, and all offers will be subject to status. Monthly payments will need to be made on all contracts for the length of the agreement, and the vehicle may need to be returned on final payment depending on the type of contract.