Mazda MX-30
A reinvention of the electric car for the everyday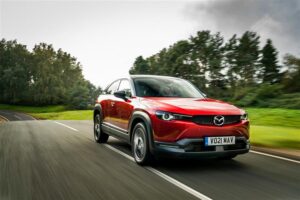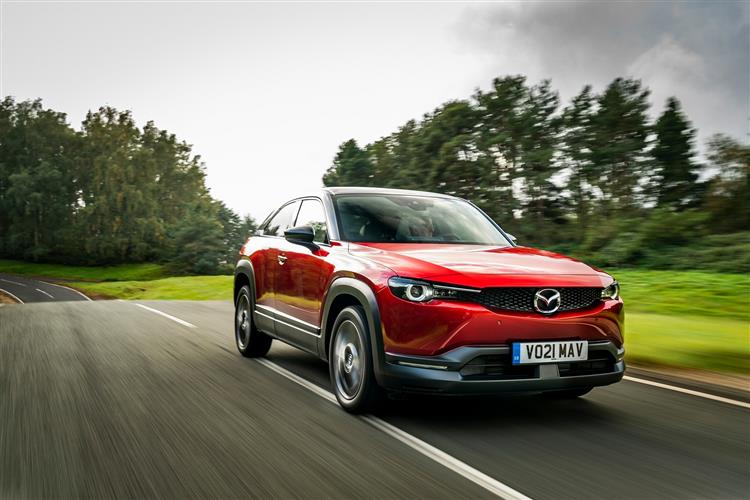 Contemporary design meets effortless style, with freestyle doors and a spacious, premium interior. Experience a truly connected drive, coupling Mazda's unique handling with intelligent e-Skyactiv electric drive technology, electric cars designed to take you wherever life leads and is certainly fun to dive.
The Mazda MX-30 is the first Mazda to achieve an overall five-star rating under the new, more stringent 2020 Euro NCAP crashworthiness ratings. Mazda MX-30 has also been named Favourite Electric Car in the 2021 DrivingElectric.com Awards.
Production of the Mazda MX-30, their first mass-production EV, began at their Ujina factory on 19 May 2020. The electric and hybrid compact crossover SUV is based on the CX-30. The MX-30 is a first, combining an electric motor with 143 bhp (106 kilowatts) and 35.5-kWh smaller batteries. It has a range of 124 miles, 36 min 20% – 80% rapid charge, and comes with 8 years battery warranty. It has a suave, tumbling rear roofline and hinged rear doors, a throwback to the old Mazda RX-8 sports car.
What do the Mazda MX30 reviews say? What Car? says… 'The Mazda MX-30 is one of those curious concepts that's tricky to pigeonhole – it doesn't really fit into any of the car categories we're used to talking about. Why? Well, it has the 4.4-metre footprint of a family SUV, but take a closer look and you'll see that its styling is more like that of a coupé SUV.
With a single battery size option, one electric power choice and a simple trim level hierarchy, choosing your MX-30 is easy. SE L Lux, Sport Lux and GT Sport Tech trim levels make up the core range, but a limited-run First Edition variant was also made available at launch.
All models get heated electric folding mirrors, LED headlamps, parking sensors at both ends, a reversing camera and rain-sensing wipers. It is often compared to the Mini Electric in Mazda MX30 reviews.
Performance and drive
Auto Express's Mazda MX30 review states 'right across the Mazda range you'll find cars that are good to drive and the brand's engineers have seen nothing in the switch to electric power to make them deviate from their principles. The people behind the MX-30 clearly held the driving experience as a priority and, for the most part, they've delivered the goods.
The Mazda rides very smoothly on its MacPherson strut front suspension and rear torsion beam. It absorbs small lumps and bumps well while exhibiting good control over undulations and through direction changes. The MX-30's steering wheel-mounted paddle shifters allow you to adjust the powertrain's torque and level of energy regeneration when coasting or under braking.
Interior
The head-up display is a feature that comes as standard with every MX-30. There's an 8.8" screen for the infotainment, and standard Android Auto and Apple CarPlay integrations, controlled by a central rotary knob and panel of buttons.
There are two rear seats for two rear passengers. There are two interior trims available: 'Modern Confidence' with white leatherette, mixed with grey fabric, orange stitching and light cork trim. Also, there's 'Industrial Vintage' with its brown leatherette and denim coloured fabric.
What Coast2Coast can do for you
Buy a new or used MX-30 Mazda at a price you'll love from us. Coast2Coast have a network of UK franchised dealers who can offer customers special MX30 Mazda deals, with full manufacturers warranties for your peace of mind.
Our team is dedicated to working with you. So, if your needs change, your budgets change, or you feel a deal isn't quite right then we will begin the search again. As a car broker, it is our job to work with you to help you find deals that simply work.
Once the order has been placed with the franchised dealer, and a deposit contribution agreed, you will have full contact with that dealer and payment for the vehicle will be made direct to them. We then receive a commission direct from them.
If you are looking for Mazda leasing deals, look no further. Here at Coast2Coast, we offer various car leasing deals, whether you are looking for a business or personal lease deals, there will be vehicles and offers available to you that will help you find the best deals to fit your requirements. Some contracts may be subject to excess mileage conditions.
Our dealers offer a full range of finance offers including Personal Contract Purchase with an optional final payment at the end of the contract, Personal Contract Hire, Hire Purchase and more. Throughout the transaction, we are available to provide help and advice where needed on your personal offers.
Credit brokers will have a registered office registered in England and will be authorised and regulated by the Financial Conduct Authority. Terms and conditions will apply, and all offers will be subject to status. Monthly payments will need to be made on all contracts for the length of the agreement, and the vehicle may need to be returned on final payment depending on the type of contract.