Seat Mii
The new Seat electric car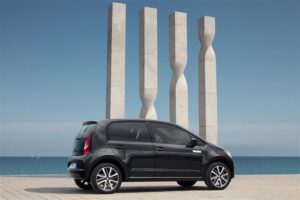 Introducing the new SEAT Mii electric, the small city car with an even bigger personality. Small size. Stylish design. 100% electric. This is the new normal. And it starts now. Ready to take the next step to a better future? Advanced technology and safety features connect you to the world around you.
Discover the benefits of electric driving with SEAT's first all-electric vehicle, the Mii electric. Packed full of power with minimal recharge time, the Mii electric is ready to go the distance when you are. The 100% electric car accelerates to 31mph in only 3.9 seconds. A range of up to 160 miles with combined city and motorway driving and up to 223 miles with 100% city driving. Its compact size helps simplify everyday city driving, from easily finding parking spots to entering emission-free zones.
The electric version of the SEAT Mii was presented for the first time in the form of an advanced prototype in February 2017 at the Mobile World Congress in Barcelona. The definitive electric version named SEAT Mii electric was launched in 2019 and it was SEAT's first production all-electric vehicle.
From easy access to emission-free zones to fast car charging points, electric vehicles carry some powerful benefits. So out with the petrol-powered Seat Mii city car, in with the Seat Mii Electric, with a range of 160 miles and one of the lowest price tags for an electric car, it's very impressive.
WLTP test cycle state that its 36.8kWh lithium-ion battery will provide enough for the Mii Electric to cover 161 miles on a full charge. The electric motor delivers 82bhp and 156lb-ft of torque and will manage motorway journeys up to its top speed of 81mph.
Performance and drive
There are three driving modes: Normal, Eco and Eco+. Normal offers maximum power. The Mii Electric is relaxing to drive, and its steering is light, with a tight turning circle. Ride quality is good, and it feels settled at all speeds – and it's quiet too.
Interior
The Mii has a solid interior, and a bright, styled plastic panel across the dash injects colour. There is no touchscreen infotainment, but there's a phone holder on top of the dash, with a colour screen and physical shortcut buttons that allow you to cycle through your phone's functions via a smartphone-integration app.
Storage space is good, with useful door pockets and a single cupholder located centrally below the dashboard. The battery is positioned under the rear seats, and there is an optional adjustable boot floor, so at its lowest setting, the Mii Electric's boot is a good, deep size.
About Coast2Coast
Since starting out in 1999, we have built an enviable reputation for being able to provide the best Seat Mii electric deals on the web for your new car, and this applies to purchase or lease. We have full knowledge of all the brands we offer and can advise you on specific issues concerning the vehicle of your choice and compare electric models for you. We welcome both private and business customers. And offer part exchange too.
What Coast2Coast can do for you
Buy a Seat Mii at a price you'll love from us. Coast2Coast have a network of UK franchised dealers who can offer customers the very best Best Seat Mii deals, with full manufacturers warranties for your peace of mind.
Our team is dedicated to working with you, so if your needs or budget changes, or you feel a deal isn't quite right, then we will begin the search again. As a car broker, and authorised dealer, it is our job to work with you to help you find a deal that simply works to keep your car costs down.
Once the order has been placed with the franchised dealer, and a deposit contribution agreed, you will have full contact with that dealer and payment for the vehicle will be made direct to them. We receive a commission for introducing customers.
If you are looking for Seat lease deals, look no further. Here at Coast2Coast, we offer various car leasing deals, whether you are looking for a business or personal lease deals, there will be vehicles and offers available to you that will help you find the best deals to fit your requirements. Some contacts may be subject to excess mileage conditions.
Our authorised dealers offer a full range of Seat finance offers including Personal Contract Purchase with an optional final payment at the end of the contract, Personal Contract Hire, Hire Purchase and more. Throughout the transaction, we are available to provide help and advice where needed on your personal offers.
Credit brokers will have a registered office in England and will be authorised and regulated by the Financial Conduct Authority and the Financial Ombudsman Service. Terms and conditions will apply, and all offers will be subject to status. Monthly payments will need to be made on all contracts for the length of the agreement, and the vehicle may need to be returned on final payment depending on the type of contract. Any images used are for illustrative purposes only.