Toyota Highlander
Refined for the daily drive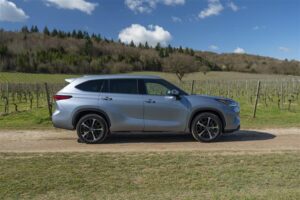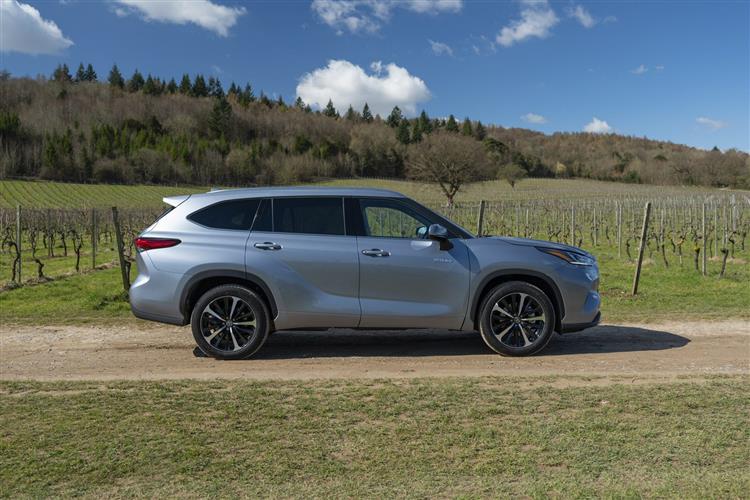 Rest assured that the 2021 Toyota Highlander is ready to take on whatever you've got. Whether you choose the powerful gas variant or fuel-efficient hybrid, its refined styling, comfort and safety features will help take your drives to the next level, whether you're hustling around town or venturing out to see what nature has to offer.
Highlander Hybrid has the drive to do it all. With a choice of Front-Wheel Drive (FWD) for efficient capability or All-Wheel Drive (AWD) for extra traction, its hybrid powertrain gets you to more places with up to an EPA-estimated 36 mpg combined rating. Or there is the strong V6 engine with versatile capabilities.
Since its debut in 2000, the Toyota Highlander has helped to create the market for vehicles that combine the capability and versatility of an SUV with the practical advantages of a seven-seat passenger car, with a second-row of bench seating and third-row of seats.
There is only one choice of engine available, 2.5-litre petrol connected to a hybrid system. This uses the energy normally wasted when slowing down to top up a small battery, which in turn powers an electric motor with the aim of improving overall fuel economy. There is a choice of two trim levels – Excel and Excel Premium. It reaches 0-62mph in 8.3 seconds, with a top speed of 111mph.
Performance and drive
The Highlander feels good at speed and is therefore extremely comfortable on the motorway. Good suspension helps with minor road lumps and bumps. The steering is accurate, it is quiet at speed and the gearbox is the best Toyota has to offer – continuously variable transmission (CVT).
Interior
The Highlander is ready to elevate every moment with its plush, modern interior. Upfront, an available 12.3-in. touchscreen display gives you access to a variety of its systems with an intuitive touch. The centre console features available Qi-compatible wireless smartphone charging4 to bring more convenience to every drive.
It has black leather upholstery on all seven of the seats, with the driver and front passenger having seat heaters, three-zone climate control, a heated steering wheel, a panoramic roof and a power-operated boot opening.
What Coast2Coast can do for you
Looking for the best deal on Toyota Highlander? You've come to the right place. Coast2Coast have a network of UK franchised dealers who offer customers the very best deals, with full manufacturers warranties for your peace of mind. Some offers state road tax included.
Our team is dedicated to working with you, so if your needs or budget changes, or you feel a deal isn't quite right, then we will begin the search again. As a car broker and authorised dealer, it is our job to work with you to help you buy a new Toyota and find Highlander deals that simply work to keep your car costs down.
Once the order has been placed with the franchised dealer, and a deposit contribution agreed, you will have full contact with that dealer and payment for the vehicle will be made direct to them. We receive a commission for introducing customers.
If you are looking for Toyota lease deals, look no further. Here at Coast2Coast, we offer various car leasing deals, whether you are looking for a business or personal lease deals, there will be vehicles and offers available to you that will help you find the best deals to fit your requirements. Some contracts may be subject to excess mileage and annual mileage conditions.
Our authorised dealers offer a full range of Toyota finance offers including Personal Contract Purchase with an optional final payment at the end of the contract, Personal Contract Hire, Hire Purchase and more. Throughout the transaction, we are available to provide help and advice where needed on your personal offers. Note that they act as a credit broker, not a lender.
Credit brokers will offer consumer credit from a panel of lenders who have registered offices registered in England and Wales, and will be authorised and regulated by the Financial Conduct Authority. Terms and conditions apply, and all offers will be subject to status. Monthly payments will need to be made on all contracts for the length of the agreement, and the vehicle may need to be returned on final payment depending on type of contract. Any images used are for illustrative purposes only.