Toyota Camry
The most refined hybrid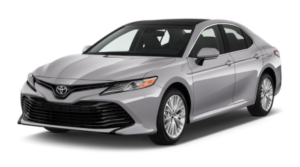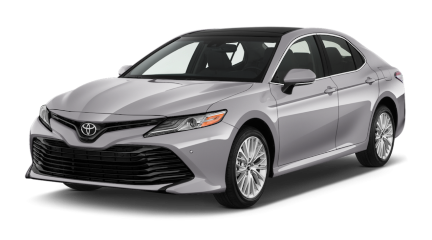 The Camry Hybrid combines the refined elegance of a high-quality saloon and the outstanding performance of a self-charging hybrid engine. With a sleek design and advanced technology, it offers a driving experience that is as exciting as it is innovative.
Built to enhance the driving experience even further, the Camry Hybrid has a design that gives the car a low centre of gravity and high body rigidity, delivering a smooth ride with sharp handling and superior control.
The Toyota Camry has been sold since 1982, spanning multiple generations. It was originally compact in size with a narrow body, but the Camry has since grown to fit the mid-size classification with a wider body. The Camry has the position as the firm's second "world car" after the Corolla.
The Camry has four doors and a large boot underneath a separate boot lid. The 2.5-litre engine is available exclusively with hybrid power comprised of a four-cylinder engine and an electric motor, providing impressive power and torque to ensure seamless performance – while remaining blissfully silent and incorporating increased efficiency. It will reach 0-62mph in 8.3 seconds and has a top speed of 111mph.
Performance and drive
The Camry is a car that handles well, and its chassis, engine and electric motor work well too. The car's steering is accurate with good suspension, it is quiet at speed and the gearbox is the best Toyota has to offer – continuously variable transmission (CVT).
Associated with low company car tax costs, The Camry has a reasonable economy and a smooth, relaxed drive. It's large, spacious and very comfortable.
Interior
The refined cabin of the Camry Hybrid combines elegant design and the finest materials. It has perforated leather upholstery, black or beige, as well as a choice of three new instrument panel finishes in wood-effect, titanium-effect or a geometric-patterned plastic.
Every Camry Hybrid comes with Toyota Safety Sense, a comprehensive suite of advanced technologies that take driver assistance to a new level, and Apple CarPlay and Android Auto.
About Coast2Coast
Since starting out in 1999, we have built an enviable reputation for being able to provide the best Toyota Camry deals on the web, and this applies to purchase or PCP deals. We have full knowledge of all the brands we offer and can advise you on specific issues con-cerning the vehicle of your choice. We welcome both private and business customers and can offer part exchange too.
What Coast2Coast can do for you
Buy a Toyota Camry car from us that you'll love because we offer the best deals on Toyota Camry. Coast2Coast have a network of UK franchised dealers who offer customers the very best deals, with full manufacturers warranties for your peace of mind. Some offers state road tax included.
Our team is dedicated to working with you, so if your needs or budget changes, or you feel a deal isn't quite right, then we will begin the search again. As a car broker, and authorised dealer, it is our job to work with you to help you find Toyota Camry deals that simply work to keep your car costs down.
Once the order has been placed with the franchised dealer, and a deposit contribution agreed, you will have full contact with that dealer and payment for the vehicle will be made direct to them. We receive a commission for introducing customers.
If you are looking for Toyota lease deals, look no further. Here at Coast2Coast, we offer various car leasing deals, whether you are looking for a business or personal lease deals, there will be vehicles and offers available to you that will help you find the best deals to fit your requirements. Some contracts may be subject to excess mileage and annual mileage conditions.
Our authorised dealers offer a full range of Toyota finance product offers including Personal Contract Purchase with an optional final payment at the end of the contract, Personal Contract Hire, Hire Purchase and more. Throughout the transaction, we are available to provide help and advice where needed on your personal offers. Note that they act as a credit broker, not a lender.
Credit brokers will offer consumer credit from a panel of lenders who have registered offices registered in England and Wales and will be authorised and regulated by the Financial Conduct Authority. Terms and conditions will apply, and all offers will be subject to status. Monthly payments will need to be made on all contracts for the length of the agreement, and the vehicle may need to be returned on final payment.