Toyota Corolla
The world's best-selling car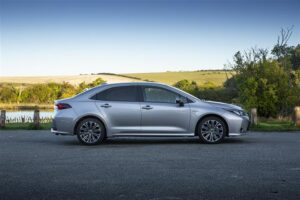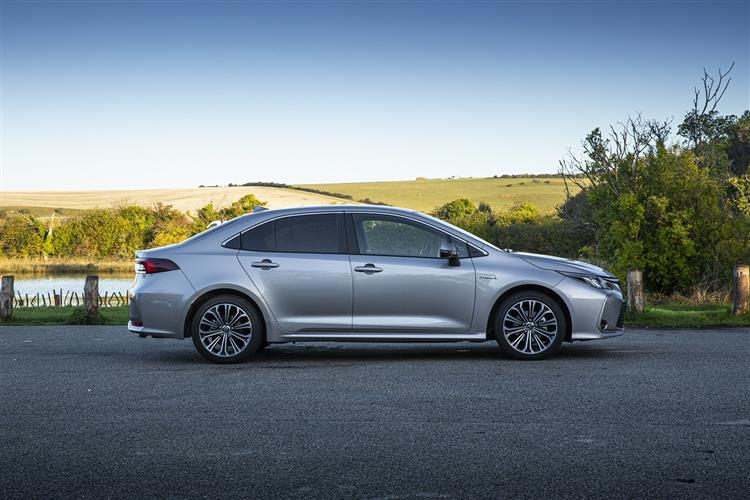 The Toyota Corolla range makes driving more fun. Feel the difference instantly as you get behind the wheel, with its stylish, comfortable interior, excellent handling and stability making the drive even more rewarding. For Toyota, Corolla's unrivalled global success is a testament to its ability to pinpoint the needs of generations of drivers and deliver the right product to meet them.
The Toyota Corolla is a series of subcompact and compact cars introduced in 1966. By 1974 the Corolla was the best-selling car worldwide and has been one of the best-selling cars in the world since then. Toyota reached the milestone of 50 million Corollas sold over twelve generations in 2021, undergoing several major redesigns in the process.
The latest Corolla comes in 1.8-litre and 2.0-litre hybrid engine choices, both with a standard CVT automatic gearbox. There are three body styles: five-door hatch, the four-door saloon or the Touring Sports estate model. The 1.8 hatchbacks (120bhp) Hybrid reaches 0-60mph in 11.4 seconds. 0-62mph takes 10.9 in the 2.0 Hatch, 11 in the Saloon and 11.1 seconds in the Touring Sports.
The hatch comes in five trim levels – Icon, Icon Tech, Design, GR Sport and Excel. The saloon is available in Icon, Icon Tech and Design trim, while the estate comes in Icon, Icon Tech, Design, Trek, GR Sport and Excel. When it comes to CO2 emissions and official fuel economy numbers, Corolla delivers impressive figures.
Performance and drive
With the reliable Corolla, there's a great balance between ride comfort and body control. In fact, it is one of the most comfortable family cars. The steering is accurate with good suspension, it is quiet at speed and the gearbox is the best Toyota has to offer – continuously variable transmission (CVT).
Standard kit includes auto emergency braking and a combination of adaptive cruise control and lane-keep assist, and powerful LED headlights are fitted as standard across the range.
Interior
The drivers seat has decent support and a good range of movements, including height and powered lumbar adjustment on all trims. The interior is solidly made, with plenty of soft-touch materials lending it a competitively plush feel.
It has easy to reach climate controls, and the 7.0in driver information screen is easy to read.
All Corollas come with Apple CarPlay and Android Auto smartphone mirroring. The DAB radio, Bluetooth and six-speaker stereo are standard.
What Coast2Coast can do for you
Looking for Toyota Corolla best deals? Coast2Coast have a network of UK franchised dealers who offer customers the very best deals, with full manufacturers warranties for your peace of mind. Some offers state road tax included.
Our team is dedicated to working with you, so if your needs or budget changes, or you feel a deal isn't quite right, then we will begin the search again. As a car broker and authorised dealer, it is our job to work with you to help you buy a new Toyota and find Corolla deals that simply work to keep your car costs down.
Once the order has been placed with the franchised dealer, and a deposit contribution agreed, you will have full contact with that dealer and payment for the vehicle will be made direct to them. We receive a commission for introducing customers.
If you are looking for Toyota lease deals, look no further. Here at Coast2Coast, we offer various car leasing deals, whether you are looking for a business or personal lease deals, there will be vehicles and offers available to you that will help you find the best deals to fit your requirements. Some contracts may be subject to excess mileage and annual mileage conditions.
Our authorised dealers offer a full range of Toyota finance offers including Personal Contract Purchase with an optional final payment at the end of the contract, Personal Contract Hire, Hire Purchase and more. Throughout the transaction, we are available to provide help and advice where needed on your personal offers. Note that they act as a credit broker, not a lender.
Credit brokers will offer consumer credit from a panel of lenders who have registered offices registered in England and Wales and will be authorised and regulated by the Financial Conduct Authority. Terms and conditions apply, and all offers will be subject to status. Monthly payments will need to be made on all contracts for the length of the agreement, and the vehicle may need to be returned on final payment depending on the type of contract. Any images used are for illustrative purposes only.